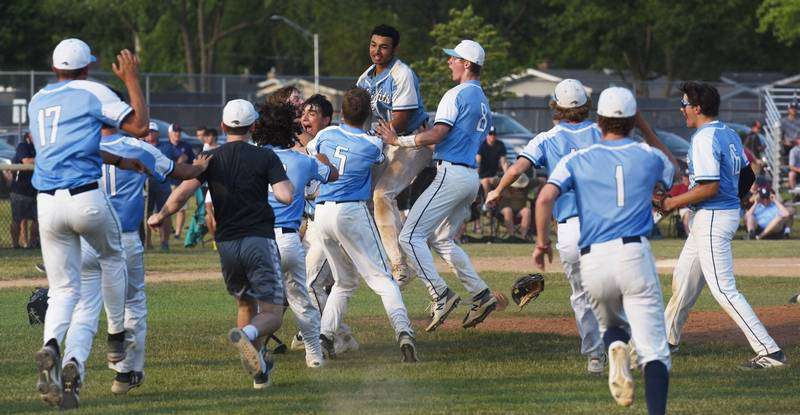 Another Story
June 12, 2021
Prospect Head Coach Ross Giusti has another story to tell.
Prospect came from behind to win the sectional title against Glenbrook South in a 4-3 thriller, officially taking their place in prospect history.
The last time prospect won a sectional was in 2011, a team that finished third in the state in Class 4A baseball.
"This is the ten-year anniversary of our state-run," Giusti said. "It means so much to be put back on the map and to be one of eight final teams left in the state. It's something to be very proud of and is a tribute to the [hardwork] of these kids."
The drama was at no expense in this championship as runners were in scoring position early and often for both teams. Prospect started off the game with the bases loaded and zero out.  Tyler Cuilla grounded into a double play to give the Knights a 1-0 lead but killed any chance of a huge inning for Prospect. 
 In the second, Glenbrook South quickly responded with a run of their own. It came off a shallow sac fly to tie the game at one. 
Defense was a struggle for the knights at the beginning of the game. They gave up three errors in the first three innings, one of which lead to a titan run. 
After back-to-back singles put runners on first and second, a ball slipped past Prospect shortstop Brady Jensen to give the titans a 2-1 lead. It was the first time Prospect trailed all postseason.
One inning later Peyton Burgh took four straight balls for an RBI walk, which tied the game at two. Gregg Neppl came in to pitch for Michael Bauer and immediately retired Brady Jensen on a lineout to center.
The score would stay knotted at two until the 6th inning, when Brady Jensen made prospect history.
With the score tied at two in the bottom of the 6th sophomore Jack Friar fit a ball between a diving third baseman and shortstop to start the inning. 
Friar was a player who started at shortstop the entire year on JV, before being called up to the varsity postseason roster. Friar fielded the final out against Glenbrook North in the sectional semifinal and once again found himself in a huge moment.
"I didn't even know I was hitting at first," Friar said. " It was a surprise, but I knew I just had to find a way on base and score any way possible."
Cole Conner then worked a walk, which moved Friar into scoring position with no outs. 
Jake Bush placed a textbook sacrifice bunt on the right side of the field and was narrowly thrown out at first. Runners were on second and third for the leadoff hitter Peyton Burgh with one out.
Burgh worked the count to 2-2, but lost the battle to reliever Josh Moosly on an outside breaking ball. It seemed like Prospect had blown its chance at scoring.
But, what transpired next will forever go down as one of the most clutch at-bats in Prospect baseball history.
 In the words of color commentator Nolan Hamilton, not a single fan was sitting down, in one of the largest crowds ever at Larry Pohlman field. Jensen fouled off a 2-2 pitch, which only caused fans' hearts to race faster.
On the sixth pitch of his at-bat, Jensen found the pitch he was looking for, and drove it over short to give the knights a 4-2 lead. 
"It was like a movie," Prospect starter Cole Lannert said. "I don't think anyone could have written a better script."
"
"It was like a movie,"
— Cole Lannert
Lannert went back on the bump to finish it for the knights in the top of the 7th. He was nearing 80 pitches, but hadn't given up a single earned run to that point. 
However, Glenbrook South was not looking to go down quietly.  James Hackett walked then stole second to start the top of the 7th. Will Sommers came in to close the game. Summers immediately surrendered a single to center and all of a sudden it was a one-run game.
Drama was brewing in the 7th once again.
Sommers kept his cool and three pitches later found his first out on a high fly to left. He struck out the next batter on four pitches and ended the game with a weak squib to second base. Prospect had escaped the 7th again and was moving on.
"We're just making memories right now, making history, and it's awesome to be a part of," Jensen said.  
Prospect will play  Rockton Hononegah at Wintrust field in Schaumburg for the chance to head downstate. First Pitch is 7:30 pm on Monday.
You can buy tickets here.