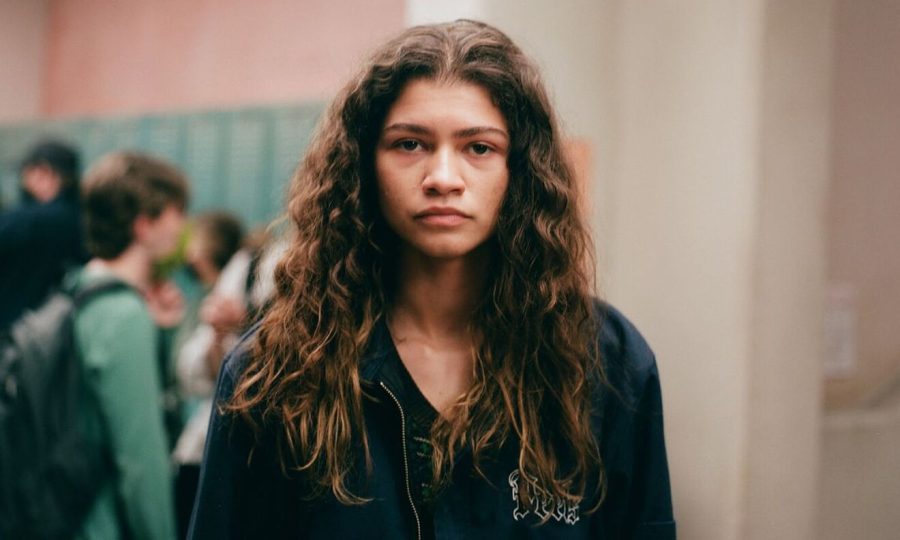 "Euphoria" Season 2: Hard to Watch but Worth it
January 12, 2022
Teen shows seem to have down the basic formula: the main character leads an awkward, quirky lifestyle, maybe seeking out popularity or peer validation, but in the end, they always learn to love themselves for who they are. Shows like Never Have I Ever or Atypical do well at integrating difficult topics with the coming-of-age themes such as identity or friendship. The show that brought a darker tone to that theme was in 2019 with Euphoria. 
In season 1, Euphoria followed the lives of different characters all going to the same high school with their stories intertwined with the life of the main character Rue, who is played by Zendaya. Rue is a drug addict that previously got out of rehab in season 1 and had no intentions of getting sober until she met the love interest Jules, played by Hunter Schafer. 
Critics of the show argue that it's too explicit and has too much sex, drugs and violence for no good reason. And yes, it does. Even Zendaya posted on Instagram before the release of season 2 on HBO Max that … "I want to reiterate to everyone that Euphoria is for mature audiences. This season … is deeply emotional and deals with subject matter that can be triggering and difficult to watch." But Euphoria is one of the few shows that shines that light on the insecurity-filled teen that doesn't know how to cope or how to find a healthy relationship. 
Season 2's first episode, "Trying to Get to Heaven Before They Close the Door," aired on Jan.9. It starts with Fezco, the go-to plug for the teens on the show, explaining his introduction into the drug-dealing life with his grandma and mysterious younger brother/business partner. This episode felt a lot more like an episode of breaking bad that ended up at a house party, which was the only real Euphoria part of it. Sure, I don't really see how drug-related gun violence is that relatable to the middle class high school experience, but if all they did in season 2 was deliver the same storyline they did in season 1, then why even watch it, right? 
From the released trailers and plot in episode 1, it's easy to see that there is going to be some sort of conflict throughout the season between the best friend duo on the show, Maddy and Cassie. Naturally, it's a love interest that gets in between them which seems like a very simple high school story plot line which I'm not that interested in, but it follows along with Euphoria's theme of teenagers not knowing how to cope with their issues and seeking answers in the wrong places. 
Euphoria's character development and relationships with each other are what carried the show last season, so the only place Euphoria could really lose their step is if the show crutches too intensely on the action-packed drug-selling plotline. 
What does make the show relatable and emotionally impactful, however, is the times, which are many, that the characters make mistakes in an effort of trying to fit in or find themselves. Many of them are aware of their issues but struggle to find a way out of them. Even though the characters on this show are dealing with more serious issues such as drug addiction and abusive relationships, it's common for teens to find themselves lost between what they think they should have and what is truly going to help them. 
Zendaya said in an interview for a season 2 trailer that it breaks her heart that her character only feels that she can express her feelings when she is high because seeking that state of euphoria is also what is killing her and her relationships with friends and family. 
Like many coming-of-age stories, it's painfully obvious that the main characters are trying to find their footing on the bridge between childhood and adulthood, but in Euphoria, many of the characters are trying too hard to grow up faster, so they end up tripping and fumbling on that path quite severely. 
While what made Euphoria stand out to viewers last season was the stunning visuals: the outfits, the makeup, the colors, the lights, the show does a good job of not glamorizing drug use, abusive relationships or mental illness. Even with the extensive use of glitter on the makeup and costumes, the vibe is mostly deep gloom. 
And that feeling is only heightened through the cinematographer's impressive use of vintage Kodak cameras. In a trailer for the second season, the director Sam Levinson said that he wanted season 1 to feel like a house party at 3 a.m. — at its peak of energy — and for season 2 to feel like 5 a.m. when everyone should have gone home. 
Whether he meant that as far as just visuals or also storyline is to be determined in the next coming episodes, but so far, one line from the newest episode seemed to foreshadow the rest of the season. 
"I keep making mistakes and not learning from them," Cassie, played by Sydney Sweeney, said.
Overall, I'm glad that the producers are trying to deliver a strong emotional impact with this season. With that said, this is definitely looking like it will be a more intense and darker version of the first season. This show is unique; that's why it's great and has six Emmy nominations and three wins. If you do choose to stay tuned for this season, watch with caution and only if you are in a safe place mentally.
★★★★☆