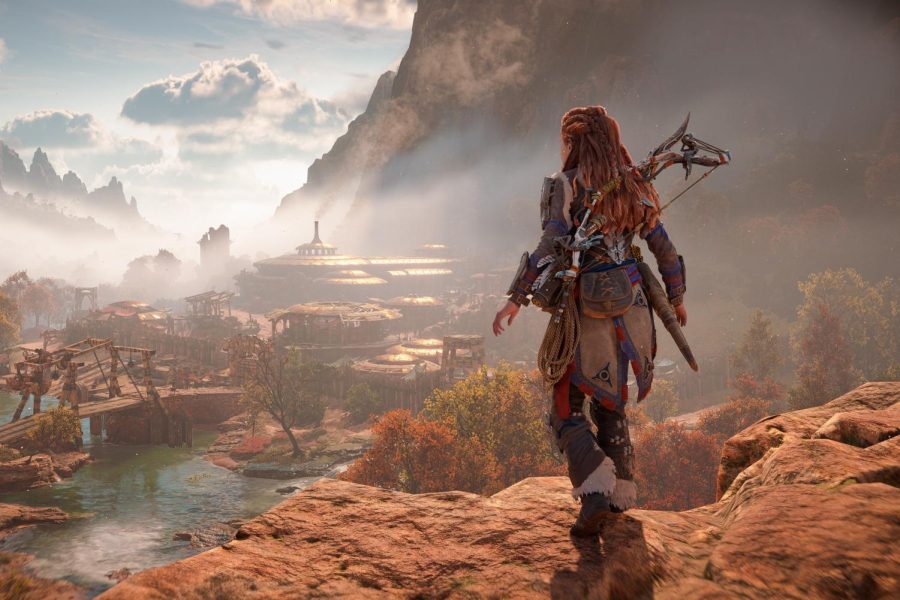 "Horizon Forbidden West" hits the mark
March 4, 2022
Now I don't think there's ever been a moment where I have played a Playstation exclusive and thought, "man, that sucked." So I'm more than happy (and unsurprisingly) to be able to say "Horizon Forbidden West," is another great exclusive game joining the already packed lineup Sony has to offer. 
Playstation has prided itself on making great games that you can only play on their console like, "God of War," "The Last of Us" and "Spider-Man." You can now lump both Horizon games into that category as Horizon Forbidden West is a refreshing and visually stunning upgrade from its predecessor, "Horizon Zero Dawn."
Forbidden West follows fan favorite Aloy once again on her mission, this time to the west to stop a new enemy that is threatening the world to extinction. Now if you haven't played the first game, you will definitely be confused heading into this new game as it picks up only half a year later where you left off. 
This world is filled with dangerous animal-like machines that are threatening all life on the planet by attacking anything that they are able to spot and making certain areas their own. This game heavily improves their viciousness making them harder to beat but definitely more satisfying when you do so. 
Aloy is now tasked with finding out what is causing a new plague that's destroying the planet and taking it to a point of mass extinction. She again becomes so easy to root for as she keeps her charm and determination from the last game with the way she talks and acts. 
One thing I kept thinking as I was playing was, "this game is absolutely breathtaking." The visuals were improved immensely as I sometimes found myself just staring at the sky and even the water. The water. I don't know the last time I found myself ever caring about water in a video game, but you can't help but admire it. This is easily one of the most impressive looking games I have played which says a lot about how fantastic it is considering the level of the other PS4/PS5 games.
The combat and reward system were also another amazing upgrade I noticed. You feel more satisfied pulling off a new move from a very large skill tree where you can upgrade your attacks, ability to heal faster, perfect hacking the machines to be on your side, and many other things. What attacks you choose to do whether that's using your bow or attacking with your spear actually have meaning and determine how fast you'll defeat something. Those weapons can be upgraded as well.
The things you fight in this game are terrifying and sometimes very challenging, but it's well worth your time. Whatever missions you choose to do absolutely have no difference between your main quest and side quests. Everything is at the same level of quality in terms of story and visuals which helped me upgrade with great loot from the machines you kill and XP you gain. 
I had an amazing time with this game and more than recommend to give it a look. It's not an attempt at a cash grab riding the success of the last one, but an actual upgraded experience that you can tell the developers put countless hours into. The story didn't just hit the mark, it broke the whole target.