'The Banshees of Inisherin' review – A pot of cinematic gold
November 10, 2022
"The Banshees of Inisherin" is a very, very, Irish film. 
From the period-accurate clothing and sets, the sprawling farmland scenery, the copious amounts of alcohol consumed and the accents thicker than that slop they call "stew," everything about Martin McDonagh's latest production simply screams of Irish culture. 
But out of all this, there is one trait that makes this movie perhaps more Irish than all the rest combined: this is because it is, without a doubt, utterly, impossibly and wholly unapologetically, depressing.
For those who have never had the indistinct pleasure of visiting the charming island, allow me educate you; Ireland is essentially England's dull, uninteresting and objectively less successful — though admittedly less racist by virtue of the aforementioned lack of success — cousin, with the unfortunate and entirely misguided impression that the rest of the world cares about its existence simply because middle-aged men everywhere take one day out of the year to risk the perils of alcohol poisoning in its honor. 
But, shamrocks and liquor aside, Ireland has very little going for it outside of some pleasant scenery, all of which begins to lose its charm after viewing the third abandoned castle or the eighty-fifth sheep-covered pasture. And once you learn that Ed Sheeran is actually from England — not Ireland, as his ginger locks might suggest — well, let's just say that the Irish are going to need a whole lot of four-leafed clovers to stay out of the running for "most boring country."
"But Kevin," you may be asking, "why are you so willing to rip on your Irish heritage and anger family members still currently living there?" Well for one, I'm still not convinced that the Irish education system has figured out how to successfully teach its students how to read, so we should be safe on the "enraged 90-year-old Irish ladies" front. 
And while I'm certainly never one to pass up an opportunity to poke a bit of fun at the dreary old rock, I won't act like I don't still have a soft spot for the place. Sometimes, you want to choke down some lukewarm, undercooked potatoes. Sometimes you want to get bitten by a donkey that has dubious vaccination records. Sometimes you want to be stuck driving for hours in pounding hail on the wrong side of a tiny frontage road that's in active competition with the pre-construction Prospect parking lot in the race for "most potholes." 
My point? Sometimes Ireland, depressing and miserable a place as it is, just feels right.
This is exactly the case with "The Banshees of Inisherin." The movie is set on a somewhat isolated island off the coast of Ireland where two friends, Pádraic Súilleabháin and Colm Doherty — played by Colin Farrell and Brendan Gleeson, respectively — have an unexpected falling out after Colm begins to give his former friend the cold shoulder for seemingly no good reason.
These factors, in combination with the aforementioned authentic cultural elements, make this an unequivocally Irish film. You don't need to spend long in an Irish household to understand that petty squabbles, heavy drinking and even heavier gossipping is all but traditional, and this movie uses these Irish staples as its (stale) bread and butter.
This, however, raises the question that I'm sure most of you have been asking ever since I started my little monologue: who cares? Well esteemed reader, that, as it just so happens, is the exact point.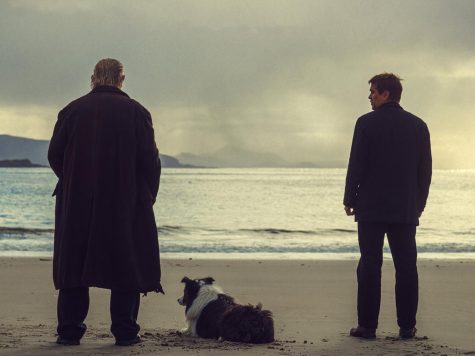 As the 20th century slowly stumbles its way into Inisherin, one is left to wonder why anyone should care about the people living on this small, drab island (as opposed to the people living on the larger, drab island). It's through this central sense of worthlessness that the film is able to explore the meaning and importance of friendship; not in an uplifting, Disney Junior sort of way, but in a melancholy, thoughtful manner that pulls no punches in its depiction of the cruelty of life while never seeking to vilify any one character or group.
Farrell and Gleeson's characters are both equally understandable, and while Pádraic's likeable-yet dimwitted nature may paint him as an easy choice for the designation of main character, as the film progresses it's clear that it's the friendship between the two men — not any specific traits held by either one — that makes their lives fulfilling.
And while the shouting matches and dramatic confrontations are what keeps the movie engaging and showcases the incredibly acting on display by both, it's the quiet moments where "The Banshees of Inisherin" shines.
These small, subtle bits of character ground the entire film in a sense of reality; in spite of its simple premise, the writing's sheer honesty gives it unexpected layers and leaves viewers with an unexpected amount to chew on after credits roll.
This approach doesn't apply just to the characterwork, either; both the humor and emotion feel natural and lived-in. Moments of hilarity and heartbreak alike are steamrolled past without a second thought, deepening the impact of these already well-crafted scenes by furthering the movie's central theme of life simply going on without a care.
The film subverts the promise of becoming a tedious, uninteresting drama, with writing that humanizes an otherwise simplistic story and gives it a near-universal message about the importance of relationships. Packed with equal parts humor and sorrow, "The Banshees of Inisherin" provides satisfying emotion and a strong thematic identity, proposing that maybe the real purpose of life was the rabid donkeys we got bitten by along the way.