Soda bread: the unbeatable Irish comfort food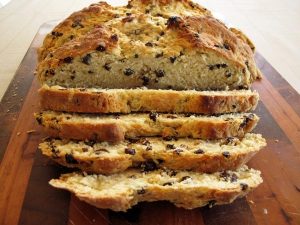 By Erin McGovern
Associate Editor-in-Chief
If you can't tell from all the green decorations and other students walking around with Shamrock Shakes, we're coming up on one of the greatest holidays of the year. For those of us who are legitimately Irish, it means an entire month of baking our favorite foods, namely Irish soda bread and corned beef (which isn't even Irish, but hey, we like it too.) So even if you aren't Irish, change up your routine and try some soda bread and tea — everyone is Irish on St. Patrick's Day!
Here's how to make yourself a simple but awesome bread for either a snack or breakfast:
Irish Soda Bread
Ingredients:
4 1/4 cups flour
2 Tbsp sugar
1 teaspoon baking soda
1 teaspoon salt
4 Tbsp butter
1-1.5 cups of raisins (depending on how much you like them)
1 large egg, lightly beaten
1 3/4 cups buttermilk
Step one: Preheat oven to 425°. Mix the flour, sugar, salt, and baking soda into a large bowl, making sure it is big enough to stir well without going over the sides.
Step two: Use your hands or another cooking utensil to mix the butter and flour mix into a well-blended dough, adding in the raisins.
Step three: Using your fist, make a dent in the center of the mixture and add the beaten egg and buttermilk, and then mix it all together until the dough is too stiff to mix anymore. Rub your hands in flour just to cover them and then knead the dough into a ball. Don't do this too much, or the dough will become soft. If you mix it slightly and it's still a little hard to roll into a ball, add more flour to dry it up.
Step four: Place the kneaded ball of dough onto a separate cooking sheet. Don't worry if the dough isn't perfectly shaped or round; rugged-seeming dough will make the bread taste better after it comes out of the oven.
Step five: Using a knife, make an X across the top of the bread so it seems divided into four sections. DO NOT cut it into four pieces, only make an X cut about a centimeter into the bread to allow the heat of the oven to reach the inside.
Step six: Bake bread for about 40 minutes or until golden brown, and once removed from the oven, the bottom of the bread should sound hollow when tapped with a knife. To test and see if your loaf is done, insert a knife into the bread and if it comes out clean, the bread is done.
Step seven: Allow the bread to sit for about 7 minutes to cool.
Step eight: Cut the bread into slices and enjoy warm with butter and tea!