By Ellen Siefke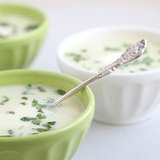 Copy Editor
While the rest of the United States scarfs down corned beef and cabbage in a vain attempt to make themselves feel more Irish, vegetarians everywhere are left questioning the piggish acts of their peers. Really, all that juice and grease couldn't be appetizing. At any rate, taking inspiration from the color green usually involves leaving food out in the sun for a few hours and letting mold appear.
Fortunately, there is still hope in the wonderfully delicious (and not even originally Irish) food known as the potato. (For more information on the origin of the potato and other foods, watch Crash Course in World History #23.) Potatoes are fascinating crops; from French fries to hashbrowns to tater tots, they are an integral part of our diets. Potatoes are also a carbohydrate and contain a healthy amount of Vitamin B6 and potassium. (Stop! They make French fries, and that's all that matters!)
As the winter of the ages persists in permeating our skin with frigid air, a soup is in order. Here is a recipe for a delicious potato soup, made even more delicious by its lack of bacon.
Potato and Leek Soup
Ingredients:
-1 pound medium-sized russet potatoes, peeled and roughly chopped
-3 large leeks, cleaned and thinly slice
-2 tablespoons canola oil
-6 cups vegetable stock
-1-2 tablespoons freshly squeezed lemon juice
-½ cup heavy cream
-½ cup crème fraiche (similar in taste to sour cream with a texture like cream cheese)
-⅓ cup minced parsley or chives
-Salt
1. Heat the oil in a large pot or Dutch oven over medium heat.
2. Add the leek and potato. Cook until they have begun to soften and brown. This will be around 8-12 minutes, depending on the surface area of the pot.
3. Add the vegetable stock and bring to a boil.
4. Reduce the heat to low and let simmer for 30-40 minutes until the vegetables are tender.
5. Blend the vegetables until smooth. If you are lucky enough to have an immersion blender, use that. Otherwise, carefully transfer batches of the mixture to a blender.
6. Add the cream and salt to taste. Start with one teaspoon of the salt and work from there, testing it frequently. Add the lemon juice as well.
7. Ladle the soup with your special ladle into bowls and serve with a delicate dollop of crème fraiche and a slight sprinkle of the parsley.
8. Enjoy the meal! (And gloat about your meatless St. Patrick's Day!)