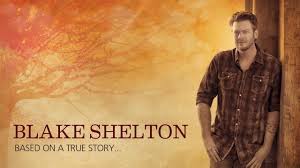 By Mary Kate Moloney
Executive Online Arts and Entertainment Editor
Who I'm listening to: Blake Shelton
Favorite Track: My Eyes (ft. Gwen Sebastian)
Vibe: an even mix of sing-along country anthems and heart-warming, feel good melodies
Similar to: Rodney Atkins, Jason Aldean, Dierks Bentley
Blake Shelton is the epitome of country music; he lives in Oklahoma, loves to hunt and fish, drinks a lot of beer and has a tattoo of deer tracks outlined in barbed wire. On top of that, Shelton is married to one of the biggest babes in country music, Miranda Lambert.

Now I may be a little biased considering I have seen them both in concert, but they both put on one heck of a show and together they are a dream team.
For example, Shelton's cover of "Home", originally by Michael Bublé, is supported with vocals by Lambert. "Home" was Shelton's fourth billboard hit followed by 16 more.
Among those 16 hits is a more upbeat track, "Boys 'Round Here", which is your typical celebration of the country lifestyle song with a twist. It truly portrays Shelton's life growing up in Oklahoma in a playful way. This song was so popular it became a double platinum record grossing $2,559,000 total.
Blake Shelton has not only had success as an artist, but as a coach. Shelton is one of four judges on the hit singing competition, The Voice, which airs on NBC. He has mentored the winners of seasons two, three, and four. Shelton returns on The Voice for season seven on Monday, Sept. 22 at 8p.m.
Besides Shelton's singing skills and TV talent, he is also famous for his social media accounts. Shelton is a big fan of twitter with his 7.2 million followers. He is best known for his TUI's, tweeting under the influence. Shelton has often gotten into fights with his "twitter haters".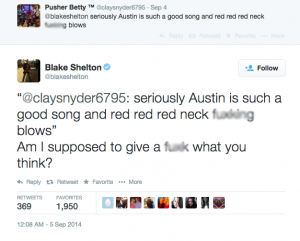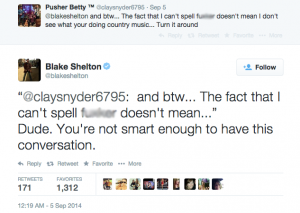 Keep an eye out for Shelton's new album, Bringing Back the Sun, available September 30.