In My Ears- Molly
By Molly Mueller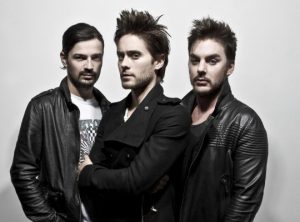 Executive Online Sports Editor
Who I'm listening to: 30 Seconds to Mars
Favorite track: Closer to the Edge
Vibe: A combination of alternative rock and electric rock with a little screamo and some emo thrown in there.
Similar to: U2, The Cure, M83 and Breaking Benjamin
Formed in Los Angeles, California in 1998 by brothers Jared and Shannon Leto, 30 Seconds to Mars is a vital band for any teenager who desperately wants to break free of suburbia and explore the world. With songs varying from celebrating being young and ruling the night like Kings and Queens to the serious of dealing with the battle within yourself in The Kill (Bury Me), 30 Seconds to Mars creates music that brings together a wide variety of people.
My absolute favorite song by 30 Seconds to Mars has to be Closer to the Edge. The first time I listened to the song and watched the music video, I got an overwhelming feeling of being part of something bigger. It is a perfect song to belt out no matter where you are, but I personally always picture the tunnel scene from Perks of Being a Wallflower.
Another inspiring song from their recent album Love, Lust, Faith, Dreams is City of Angels. The song details the band's beginning in Los Angeles and features many Hollywood actors and artists in the music video along with random Los Angeles residents from off the street. These couple songs create a spark that makes you lust for a world exciting and outside of suburbia.
Along with the popular City of Angels, 30 Seconds to Mars had another mega-hit on Love, Lust, Faith, Dreams called Up in the Air. You are immediately drawn in with intense music and an even more impressive music video. The video features intense colors, exotic animals and a variety of people including Olympic gymnast McKayla Maroney. It won best rock video at the MTV Music Video Awards and it was definitely deserved.
Overall, 30 Seconds to Mars is a band that makes you feel like you want, no need, to be part of something bigger. They inspire you to go out and make a difference and just enjoy life. Hopefully you get as much of them as I did.