Uncommon Cup: Coffee Planet review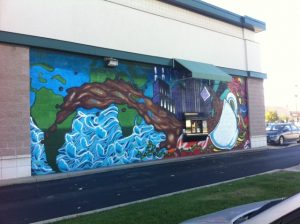 By Abby Sunu
Executive Entertainment Editor
It's everywhere. It's all over your Instagram feed, in every single town and especially on late start Thursday. The green and white logo plastered across a white paper cup: Starbuck's Coffee.
There are over 25 Starbucks locations within a 10-mile radius from Prospect High School and a total of 164 in Chicago. According to CBS, Chicago has the second greatest number of Starbucks locations in the country and fifth in the world
Whether you're in the next town over, a different state or in one of the 65 countries with Starbucks locations, you can always have that same double chocolaty-chip frap, just the way it is back home.
However, unique coffee houses such as Coffee Planet offer drinks, events and an atmosphere no Starbucks or chain coffee house could ever achieve.
Coffee Planet is located in Rolling Meadows that opened up about a year ago because manager Jim Rudd wanted to bring a unique coffee house to the community.
From the second you walk in to Coffee Planet, you feel welcome. A cozy fireplace provides a great space to settle down with a warm drink and good book. A collection of board games are also available for customers to sit down with friends and play a few rounds of Apple to Apples. Beautiful artwork and photography lines the wall from artists in the community.
"I worked at a chain coffee house for a year and a half, and I hated it," Rudd said. "I hated the idea of a chain coffee house, so [my family] started this place because [we] all wanted to do something different with our lives."
Rudd didn't like that the parent company dictated everything, from the drinks to a fixed salary to the amount of work required. He also felt the customer interactions weren't genuine because the order process was rushed and impersonal.
"The major difference [between coffee chains and Coffee Planet] is the quality of coffee, [and] the way we actually brew our coffee," Rudd said. "[Also,] if there is an issue or something that needs to be taken care of, you deal directly with management almost instantly."
By starting up a place of his own, Rudd was able to form and approve his own products. The baristas are also required to create at least one drink to put on the menu.
When ordering a drink, the baristas actually have a conversation with you, give recommendations and help create the perfect order. It feels a lot more personal than waiting 15 seconds for someone to hand you a paper cup with your name spelled wrong.
The wait at Coffee Planet is a lot longer and takes about six to seven minutes to make a drink. However, it is definitely worth it because the drinks are quality, and the first sip you take doesn't burn your tongue. It also comes in a ceramic mug and is topped with a design made of cream.
The atmosphere between the two places is also very different. At Starbucks, I feel pressured to order fast because the environment feels rushed, and everyone there seems like they're in a hurry.
At Coffee Planet, I'm able to sit down and enjoy my favorite drink, the choco nut, because it tastes like a spoonful of nutella. It's also not too sweet and has the perfect combination of hazelnut and mocha flavor.
Starbucks may be close, fast and easy to get, but the quality drinks and friendly environment of unique coffee houses are definitely worth the extra drive.


easel.ly