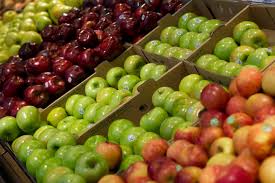 By Ivanka Northrop
Features Editor
Fall is full spices, hot foods soups, hot cider donuts, and everything having to do with apples. For those fall lovers like me out there, fall alone is enough to make you happy. But, on top of that, you add the food, which just makes everything better.
While most of the foods listed are able to be homemade, they are also available in stores. For me, I can be lazy, yet cooking and baking are definitely stress relievers. So whether you make it yourself, or buy the foods/drinks below, they are sure to bring out fall in you.
Pumpkin Cravings:
For those of us that just can't get enough of this fall staple, here are the things that you should try this fall.
Pumpkin/Squash soup: When you want something for dinner that will make you feel all warm and comfy inside, this is it for you. Personally, I'm more into the squash soups, but pumpkin is delicious as well.
Pumpkin spice coffee: Whether you make a stop at Starbucks, or get a different brand that you take home and make, this heavenly item is usually looked down upon by many. I however, can't live without this, it being my all time favorite Starbucks drink. Afraid you won't like it? Give it a try anyways. It's fall. Kick back with a little pumpkin pick-me-up.
Pumpkin cream cheese: "Ummm, what?" you say. Yes this is a thing. Add this to frostings for carrot cake, or as a spread on pumpkin bread, for a delicious fall treat.
Apple Fans:
When people think of fall, apples, apple picking, or apple pie usually comes to mind. This apple season, make sure to try some of these foods and drinks.
Apple cider: This classic has been around for many years. Get it at the grocery store, an apple orchard if you happen to go to one, or Starbucks (Caramel apple cider).
Honeycrisp apple: This healthy snack is my favorite apple. It's crunchy and juicy, and a nice balance between sweet and tart. Eat it plain, or slice it up and dip in peanut butter.
Apple cider donuts: Think you're too old for the apple orchard? Well, these are the reason to go, no matter what age you are. This is probably my favorite apple product ever. If you're not going to go to an orchard any time soon, you can make these at home. If you decide to get store-bought ones, beware that they will not be nearly as good. Below are a few recipes to try for those interested in making their own.
http://www.foodnetwork.com/recipes/food-network-kitchens/apple-cider-doughnuts-recipe.html
http://www.myrecipes.com/recipe/apple-cider-doughnuts-10000002010112/
Check out this link for more apple recipes:
http://www.foodnetwork.com/recipes/articles/50-things-to-make-with-apples.page-4.html
Other:
Not a pumpkin or apple person? That's ok, because these foods might be just the thing for you!
Pears: This fruit is in season from August all the way to February. Eat them plain, or cut them up and sprinkle some cinnamon on top for sweet-and-spice taste.
Sweet potatoes: Most families already make something with sweet potatoes during fall, but if you haven't, don't miss out! Below is a sweet potato casserole recipe, that is sure to be a crowd pleaser!
http://www.health.com/health/gallery/0,,20600272_4,00.html
Kettle Corn: Fall is not complete without the sweet savory taste of this popcorn. Kettle corn is best when made fresh, so if you happen to be somewhere where you can smell its delicious scent, make sure to stop and pick it up. Otherwise the alternative to make it yourself. Here are a few recipes in case you're interested.
http://allrecipes.com/recipe/kettle-corn/
http://www.thekitchn.com/how-to-make-kettle-corn-at-home-cooking-lessons-from-the-kitchn-192917
http://www.foodnetwork.com/recipes/melissa-darabian/spiced-kettle-corn-recipe.html