Thanksgiving with the Chwałas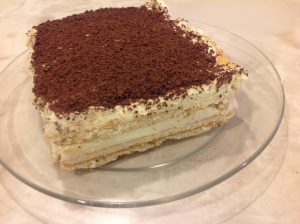 By Krzys Chwala
Copy Editor
Our Thanksgiving feast includes traditional dishes like turkey, cranberry sauce and sweet potatoes, but for our desert, we go back to our Polish roots. Below you'll find a few recipes featured on our Thanksgiving menu.
Fun fact: It's Polish tradition to bake a turkey for the new year, just like it is here in America for Thanksgiving.
Recipes courtesy of my mom's collection over the years
Short and simple sweet potatoes
2 lbs. sweet potatoes
3/4 c. butter
2 T. sugar
2 T. lime juice
salt & pepper
Grate the potatoes. On a pan, heat up the butter and then add the sweet potatoes and sugar. Cook for 15 minutes, stirring ocassionaly. Add lime juice and cook for an additional three minutes. Salt and pepper to taste.
Tea biscuit layered cake
Tea biscuits
Carmel spread (preferably dulce de leche, see below for quick recipe)
1 pkg. vanilla instant pudding
1 stick butter
2 c. heavy whipping cream
grated chocolate for decoration (preferably dark chocolate)
DIY dulce de lech (pudding):
1 can sweetened condensed milk
In a deep pot, place the can of sweetened and condensed milk. Fill with water. (Make sure the water covers the can completely.) Bring to a boil. Then simmer for 1.5 hours, checking occasionaly to make sure the can is covered with water. If it is not, add more.
After 1.5 hours, remove the can.
***BEWARE: it is HOT, and contents are under pressure***
Once can is cooled, open and store the caramel in a closed container in the fridge.
Pudding layer:
Prepare the instant pudding according to directions, but use only half of the milk directed. Beat with the butter.
Whipped cream layer:
Beat the heavy whipping cream until soft peaks form.
1. In a shallow pan, arrange a layer of tea biscuits.
2. Spread the caramel on the biscuits.
3. Arrange another layer of biscuits on top of the caramel.
4. Spread the pudding layer.
5. Arrange one more layer of biscuits.
6. Top with a layer of whipped cream and sprinkle chocolate shavings.
**Best to prepare the cake two days in advance.
Store in the fridge.