Ellen's Vegetarian Entreés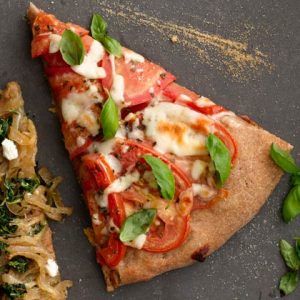 By Ellen Siefke
Editor-in-Chief
Lately, I've been craving pizza – bright red tomato sauce, crisp crust and gooey cheese. Normally, the classic deep dish from Lou Malnati's or a plain 'ol thin crust from Tortorice's would suffice, but sometimes, I would rather eat something healthy, something not as greasy. Cue homemade pizza to the rescue. Homemade pizzas offer not only a welcome break from all the fat but also allow you to customize your own food in whatever manner you wish. If you're feeling mushrooms, plop them on. If you prefer plain cheese, go for it. If you prefer to put exactly 12 pieces of pepperoni perfectly arranged into rows of three, more power to you – it looks much prettier. Here's a favorite recipe of mine, a slight update to the standard veggie pizza. Whole-wheat pizza dough gives an extra boost of nutrition, and covered with fresh tomatoes, mozzarella and a few basil leaves for color, it's sure to be a hit.
 
Tomato and Mozzarella Pizza
Ingredients:
-All-purpose flour and cornmeal
-1 pound whole-wheat pizza dough, room temperature
-1 tablespoon olive oil
-1 garlic clove, minced
-12 ounces ripe tomatoes, thinly sliced
-1/8 teaspoon dried oregano, crumbled
-1/8 teaspoon salt
-1/2 cup shredded mozzarella – you can either buy the generic brand or the fancy stuff, both will suffice
-1 tablespoon finely grated Parmesan – again, both the generic and fancy stuff work
-1/3 cup small fresh basil leaves
 
Preheat the oven to 500 and set up a rack on the lowest level.
2. On a lightly floured surface, roll dough into a 14-inch circle.
Sprinkle a baking sheet with cornmeal, and feel free to be very generous with cornmeal. Place the dough on the sheet.
4. In a small bowl, stir the oil and garlic together.
Brush the oil and garlic mixture on the dough, leaving a 1/2-inch border.
Add on the tomatoes, overlapping slightly. Sprinkle on the oregano, salt, mozzarella and Parmesan.
7. Bake for about 13 minutes, or until the crust is golden brown and the cheese bubbly and melted.
Top with basil leaves.
Cut the pizza up and enjoy!