Secret Santa success
By Jordan DuShane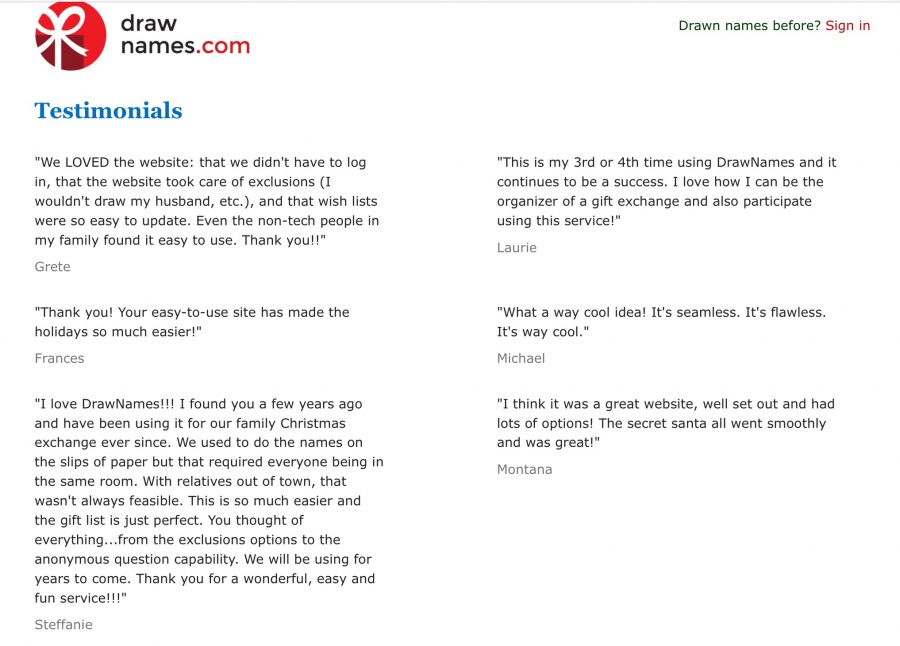 Secret Santa is a holiday tradition that always sounded so much fun to me growing up. Last year, my friends and I decided to start the tradition by drawing names out of a hat and buying gifts for that person. The only problem was we couldn't get 7 girls in one room together due to after school activities, family nights and babysitting. So my friend wrote everyone's name on separate note cards and placed them in her backpack. The following day she handed one to each person. The only problem to our desperate solution was she knew who everyone had, therefore ruining the secret.  
This year, we found a free website that draws the names for you so no one knows who is left. The way the site works is one person makes an account. Then, you type in everyone's email and name. The website sends everyone an email telling them you have been added to the group. Once getting the email, participants go to the website and confirm they want to be in the group. After everyone has confirmed it sends participants and email with the person they have to buy for.
This site has been such an amazing resource. It allows for easy access and quickness. The process took less than an hour. One of my favorite aspects of the site is the wish list. When participants are first confirming the Secret Santa, they can put gift ideas together for their Santa. Also if the participants chooses not to, their Secret Santa can anonymously send them a message asking for a wish list.  
Another great aspect of the site is it gives participants information about the exchange like the price limit and dates.
However, the website doesn't look professional.  Its basic look proves for easy functionality but lacks the look like it's being kept up to date. If it ever asked me for any personal information I would do more research on the site before handing it over.
I definitely would use the site again in future years. There are other Secret Santa generators, like "Elfster" that look more complicated then the simple "DrawNames.com". I highly recommend it. Due to the site, this season of Secret Santas has been secret.