'Bloom' reveals new colors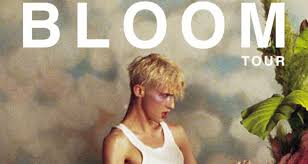 By Jenna Koch, executive entertainment editor
Troye Sivan's new album, Bloom, encaptures the feeling of being 16, closer to 20 than ten, and feeling completely infatuated with someone. It feels like a peach; the flower blooms and it's so beautiful. Then it ripens into a sickeningly sweet romance, all while knowing there's such a short amount of time before it falls and rots away into the ground. Or maybe baked into something delicious. The peach never knows which it'll be.
While I've never felt anything remotely close to that, Sivan obviously has.
His last album, Blue Neighborhood, focused much on his recent breakup. It was mostly melancholy, with a few lighthearted tunes in between. However, Bloom finds Sivan proudly embracing love and sexuality in colors other than blue.
Songs such as Lucky Strike, My My My!, and Bloom aren't afraid to express Sivan's sexuality that's far more mature compared to Blue Neighborhood.
Seventeen, the first song on the album, is a darker song that looks back on Sivan's experiences on Grindr, a dating app for gay men.
Sivan said he used a fake ID to sign up for the app when he was 17, and used the app to hook up with older men. The song takes on neither a negative nor positive tone- it was simply written to share Sivan's experiences and the emotions that came with them.
Even in the slower, more emotional songs, Sivan still sings of intense romances rather than heartaches. Animal describes almost a "till death do us part" romance.
"An ode to the boy I love/ Boy, I'll die to care for you"
He fantasizes about the future he'd like to have with this boy in What a Heavenly Way To Die as well.
"When our promise has come and gone/And our youth is all but melted, melted/ We can listen to this song"
Sivan has finally found the boy he'd like to spend eternity with, and brings that emotion beautifully into his music.
In a final nod to his Blue Neighborhood album and the break-up that inspired it, The Good Side acts as a public apology to his ex.
"And I happened to be on the good side of things," Sivan said in an interview with Zane Lowe on Beats 1 "I got to go on tour, I got to go and see the world, I had this very therapeutic experience of singing songs about that breakup and watching people sing them back to me, and I met someone new fairly soon afterwards."
The song has a very dreamy feel to it, and it's far slower and softer than the rest of the album. It's a perfect closure to Blue Neighborhood and allows a transition from the heartbreak of his last album to the new love sung about in Bloom.
Bloom has solidified Sivan's place among the queer dream-pop artists, and this is only the beginning of a new era in his music filled with flowers and love.