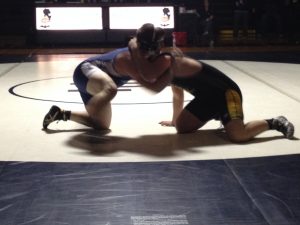 By Ryan Molini
Sports Editor
On Feb. 24, the varsity wrestling team made program history as they qualified for the team state finals against seven of the state's top teams. Prospect wrestling is proud to finally say they are among the last eight standing.
A narrow 30-29 victory over the Grant High School Bulldogs clinched the program's first ever sweet sixteen victory at Deerfield High School.
According the head coach Tom Whalen, the atmosphere was intense and the boys brought the right attitude in order to win.
The Knights went on a 19-0 run sparked by junior Joe Siracusa's pin to give the team an early six points.
Sophomore Vince Lobono's technical fall gave the Knights five more points before heading into the last and deciding match; junior Tanner Strobel's as the team was up by eight.
"[Tanner's] fought for our team in tough situations," Whalen said about Strobel, who is tied for the team lead in pins. "I knew that we were going to win that match no matter what."
The Knights prevailed over Grant with a 30-29 victory, edging the Bulldogs and clinching their state berth by just one point.
Looking into the state finals Sat. Feb 28, Whalen would like his guys to not get caught up in the atmosphere and realize that his team belongs there now.
"Earlier we wrestled [Oak Park River Forest] (state qualifier and top team in state) and it wasn't a very good outcome. Not because we lost," Whalen said. "I think we respected them too much and almost were fans of theirs, instead of being competitors … I think it's going to be a different matchup."