By Jack Ryan, executive social media editor
Sitting in on an Ed Academy presentation about special education in January, senior Molly Keane discovered the idea of creating a club that would advocate for students to make new friends and make special needs students feel a part of something. When listening to the speaker, Keane loved the idea. The next day, she went to Principal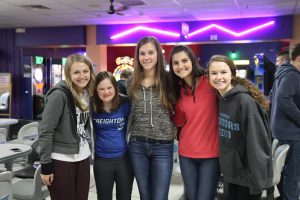 Michelle Dowling to pitch the idea of creating this type of club.
Dowling loved the idea and let Keane create Best Friends Club, a club anyone can be part of that encourages students to come together and welcome students with special needs. They achieve this by hosting events, like bowling, and creating campaigns like, "Spread the Word to End the Word," which advocates for students to not use offensive words, particularly "retarded."
"These students are at our school, [and they] are just like you and me. [They] deserve the same respect that all the other students get," Keane said.
When Keane created the club, she and Dowling asked English teacher Nicole Stoltz and Division Head of Special Education, Julie Stoker, to help run the club.
According to Stoltz, the message Best Friends Club hopes it's spreading is to break down social barriers at Prospect. The members of the club feel certain groups, like students with special needs, are not treated with the respect they deserve.
"Just because you're in certain classes or you're on certain teams does not mean you can't hang out with other people," Stoltz said. "This [club] is just a great outlet for students of all ages, genders and abilities to get together and do something fun."
The first Tuesday of every month, Best Friends Club organizes events they hope will allow students of all backgrounds to come together to make new friends.
Some of the events the club has hosted are a barbecue, attending Prospect basketball games and participating in Knots of Love, a non-profit organization that donates scarves, blankets and hats to people with hair loss through terminal illnesses.
On May 21, Best Friends Club hosted a barbecue at Prospect where they joined with similar clubs in D214 like Mustang Pals from Rolling Meadows and Elk Grove Best Buddies. At this event, they served hot dogs and played games like Baggo. They hope this barbecue will continue to spread their message of everybody coming together no matter their background.
According to Keane, she hopes Best Friends Club will become larger and feels they will be able to achieve this through publicizing their events on the announcements and by hanging posters in the school.
Stoker agrees and also hopes Best Friends Club unites with other clubs and activities, especially Service Club and The Underground, so they will be able to reach a larger audience with their events. By helping out charities, like Knots Of Love, Stoker believes they will achieve this goal.
Throughout the events and campaigns Best Friends Club arranges, Stoltz and Keane hope students learn a valuable life lesson.
"You're going to come across a variety of people throughout your life, and you have to learn how to adapt to different people and how to be kind to one another," Stoltz said. "I think so many times people are mean to other people, or we put other people down because it makes us feel a little more comfortable with ourselves, … but it's better to be kind to one another and our world will be a better place."