By Jack Ankony, executive sports editor
The boys' cross country team placed second at the IHSA 3A Sectional race in Waukegan, on Oct. 29. According to head coach Mike Stokes, the Knights had a strong showing from all seven runners, helping them advance to the state race on Nov. 5 in Peoria.
In this meet, senior Jack O'Donnell led the Knights with a 15th place finish with a time of 15:26. O'Donnell was followed by junior Jack Terry who finished 18th with a time of 15:31, senior James Riordan 30th with 15:48, senior Sean Sanaghan 31st with 15:50, junior Nate Cozine 32nd with 15:50, junior Jack Hempleman 34th with 15:53 and sophomore Andy Reimann 57th with 16:08.
"We ran really well," Stokes said. "The guys executed the plan perfectly, they got out, they settled in, they moved when they had to, and in the last mile they just kept moving up."
As a team, the Knights finish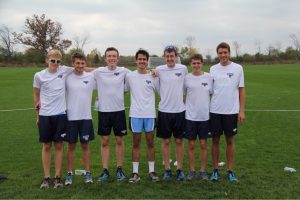 ed with a score of 115, which was enough for them to beat out rival Hersey by one point. Lake Zurich finished in first, scoring 79 points. The other two teams from this sectional heading to state are Palatine with 142 and Highland Park with 178.
In preparation for this meet, senior Jack O'Donnell said the team practiced at the Waukegan Sports Park a few weeks ago to know the course better.
"We weren't expecting to get second," O'Donnell said. "We were really just trying to get top five to make it out. We knew it was going tobe a hard course, which it proved to be, but we just fought through it."
Currently the Knights are ranked 6th in state, according to DyeStat, but have set the goal to get t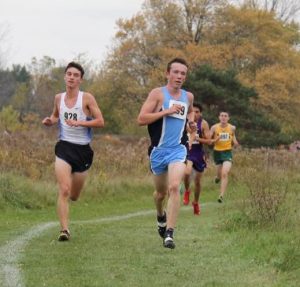 op five at state as a team. According to O'Donnell, Lake Zurich, Neuqua Valley, Lyons Township and Hersey are the Knights' top competition.
Stokes has continued what he calls the sharpening phase of the season throughout the past few weeks of practice. The team is scaling back on mileage, as well as 300m runs at practice.
"We are starting to tell our bodies that it is time to go fast, kind of priming the pump," Stokes said.
Stokes hopes to have two runners under the 15:10 mark at state, with the rest of the pack under 15:20. He believes these times will give the Knights the result they want.
"We have worked so hard to this point," O'Donnell said. "Now it is starting to really pay off. Next week should be really big for us."