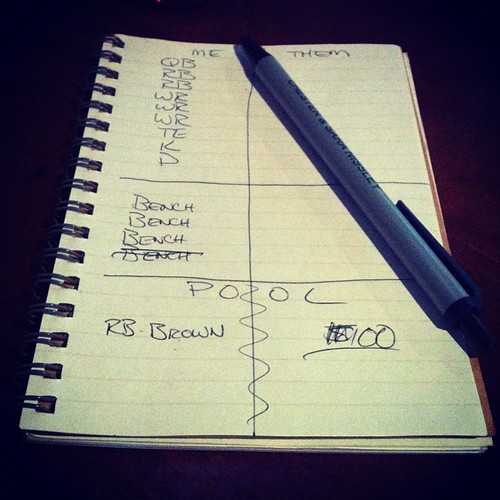 Fantasy Draft Strategy: RB and Chill
Fantasy football is a constantly changing game. Players, teams, and situations change each year and your draft strategy should change along with it. Long-standing draft strategies like RB zero –where no running backs are taken in the first five rounds– or late-round QB may win championships in one year but miserably fail in another. That's why it's important to base your draft strategy on values and trends from your position in the draft.
For the first six picks, my favorite strategy is something called RB and chill. The strategy can be called hero RB or anchor RB as well, but they all have the same premise. Take an elite stud running back with your first pick, then hammer down on other positions in the following rounds.
Having that anchor running back is key to this strategy because it allows you to wait on the running back position and capitalize on other key positions while your other league-mates are still scrambling for a running back. 
As top 6 picks last season, Derrick Henery, Alvin Kamara, and Dalvin Cook all ended the season with more fantasy points than late first-round RBs Clyde Edwards Helaire, ADP 9, and Joe Mixon, ADP 10, Combined. One stud running back can equal and even outproduce two second-tier running backs, which is why having an elite running back is such an advantage.
Even in points per game this strategy still holds its own. Mixon and Heliare combined for an average of 23.9 points per game last season. Dalvin Cook averaged 21. That's only a 2.9 point difference between two late first-round running backs and one early-round RB.
The running back position drops off very quickly after the first few picks and RB can get risky in the late first in the second round. That's why in the second round we attack receivers and tight ends with this strategy.
Of the receivers taken in the second round last season, only two did not finish as top 5 wide receivers. Those two were Chris Godwin (WR 23), who missed four weeks due to Injury, and Julio Jones (WR 53), who missed seven weeks of the season. Devonte Adams, Tyreek Hill, and Deandre Hopkins all were second-round selections who finished as the WR1, WR2, and  WR5 respectively.  Historically receivers have a much higher hit rate than running backs in that range. However, Fantasy has become so runningback dependant that these elite receivers can be forgotten at times.
Safe runningbacks typically fall off a cliff after the end of the first round and last year was no exception. Of all running backs taken in rounds two through four only Johnathan Taylor and Arron Jones finished top 12 at the position. Meanwhile, seven top 12 receivers along with Travis Kelce were taken in that same range.
In those rounds, the values are with receivers and tight ends.
This year especially I love taking a quarterback in the 5th round. It's a buffet of great options, but my favorite in this group is former MVP, Lamar Jackson. While streaming quarterback is always a great choice, the RB and chill strategy can allow you to gain an elite edge at that position.
Towards the 6th round and beyond, the search for an RB2 begins. Players like David Montgomery, who finished as the RB4, were taken in this rage last year. Antonio Gibson and Kareem Hunt were also able to finish as RB1's from this range. So, it is possible to find a quality running back late in the draft.
Finally,  just remember that any draft strategy is a set of guidelines, not rules. Draft values can change in every league and it is ok to stray away from your strategy to capitalize on values. Think about it, If everyone in a league is using the same draft strategy there is going to be no value. At the end of the day, capitalizing on value is what is most important for success on draft day.
The email you enter will not be displayed on your comment.