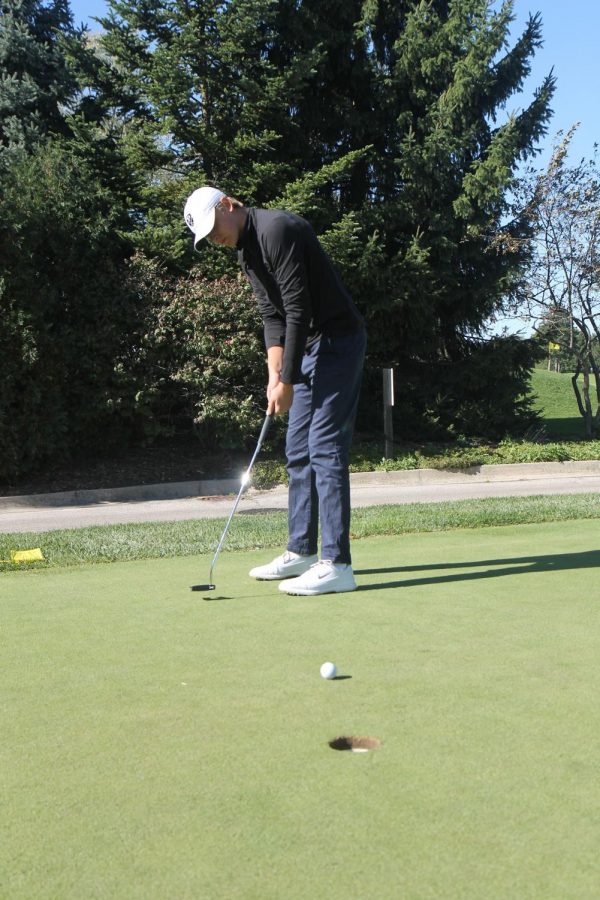 Swinging Back Into Action
September 2, 2021
   3-0. The 2021 boys golf team is starting off the year with a bang, winning their last three competitions within the tough MSL Conference.
 However, it's only the beginning with a full season of golf ahead. The Knights are alreadly hard at work to ensure a great season is ready to unfold as the world starts its trend to normalcy.
The shoes to fill from last year's performance are pretty large ones, with the 2020 Knights winning the MSL and performing in the IHSA Regionals. 
 However, they aren't shying away from the challenge. 
 "We are working really hard to make sure we don't take a step back this year and continue to perform well like we did last season." Senior Joe Minelli explained.
The Knights plan to move forward, creating their own legacy yet still carrying on the past. They've already taken down Meadows, BG, and Wheeling, and have also been crowned champions at the Elk Grove Invitational that kicked off this year. 
Coach Hamman couldn't be more proud of the start but knows there is more work to be done. 
"The boys and I together want to compete with the best teams in the state". 
The Knights have performed excellent thus far, doing so with a fairly young team along with some experienced returners. 
The Knights have five seniors returning this season along with some much younger players like sophomore Luke Kruger and junior Hugo Arzbaecher. 
  "We are a young team, but we have great senior leadership. They're doing a great job leading by example, and our team is very competitive with each other, which makes everyone work harder and try to get better", Coach Hamman said. 
 Some of the best performances of the season so far have come from  young sophomores, such as their most recent leader Luke Kruger, who carries a bright future for Prospect. 
 The competition between the players is highly competitive, making spots having to be earned through consistent and impressive play. 
   This has only led the team to create high goals and exceed their expectations this fall. 
  "We would love to make it down to state as a team, and let's watch and see what happens", said Coach Henig. 
   The goal is always to win a state championship, but the team has set some more minor goals that must be accomplished before they can reach the big one. 
 Coach Hamman explained, "The MSL boys golf conference is very competitive this year, so we would like to finish top of the conference. We also get to host the regional, so it would be nice to win it on our home course." 
    The Knights plan on taking over the conference once more, which has started to become an expectation in the program. 
And after a year of confusing guidelines and frustration, the 2021 Prospect golf team is fired up to earn the top spot again.