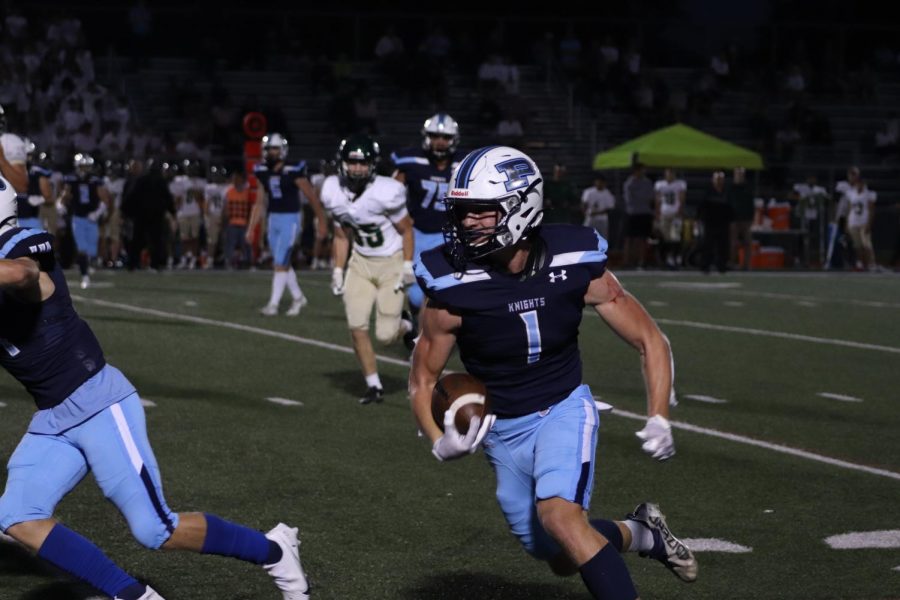 Knights Dominate in First Game Back at Gattas
September 4, 2021
For the first time in five months Prospect High School football was back at George Gattas Memorial Stadium. With football being back meant the long awaited return of the fans, especially The U. The fans had something to cheer for early on as junior Jake Parisi electrified the crowd with an opening kickoff taken back to the house for a touchdown. 
"I was just so excited in that moment," Parisi said. " … it made me feel so good just running across the endzone."
The play had looked as if it was going to be the exact opposite of what happened, as Parisi initially muffed it. He quickly redeemed himself as he scooped the ball up and put the 2-0 Knights up 7-0, en route to their 41-13 victory over the 0-2 Fremd Vikings. 
"Our big goal was to start fast after a bit of a slow start last week," head coach Dan Deboeuf said. "You can't do it much quicker than that."
Junior quarterback Frank Covey and the rest of the Knights offense came out firing and didn't skip a beat. After being tied 7-7 at the end of the first quarter, Covey had a total of 274 yards and completed 13 of 17 passes with two passing touchdowns while also picking up two with his feet.
Covey spread the ball around as senior wide receiver Owen Walter picked up 101 receiving yards on seven catches, junior wide receiver Brad Vierneisel had three catches for 56 yards and a touchdown and Parisi picked up his second touchdown of the game late in the first half.
The running game was also strong for the offense as the committee of senior Matthew Raitano and junior Gavin Flanagan showed out. Raitano picked up 51 yards on the ground and a two-point conversion score while Flanagan had 48 rushing yards and one touchdown.
"Our word the whole week was belief, believing in each other, believing in ourselves and being confident and [the team] showed that tonight," Deboeuf said.
Once again the defense stepped up big, allowing less points than they did last week (even if it was just one point) and picking up two interceptions. The first interception came late in the first half as senior linebacker Jacob Grzesiak picked off Vikings quarterback Caiden Suchy and was able to get the offense the ball inside the redzone.
"[The ball] kind of just went into my hands and I just turned around and started sprinting," Grzesiak said. "[I] almost took it to the crib."
The second interception was by senior John Svoboda with less than two minutes remaining in the game to hand the ball over to the offense to kneel it out and take the win.
The team really enjoyed having the fans back and it really made the victory feel all that more special.
"It feels so good, our fans are unbelievable," Parisi said.
The feeling was mutual all around.
"It was just fun to be playing football in the fall again, under the lights and the crowd was just freaking crazy," Deboeuf said. "So a ton of fun and [I'm] super proud of the guys and we'll get back to work tomorrow and keep this party going."