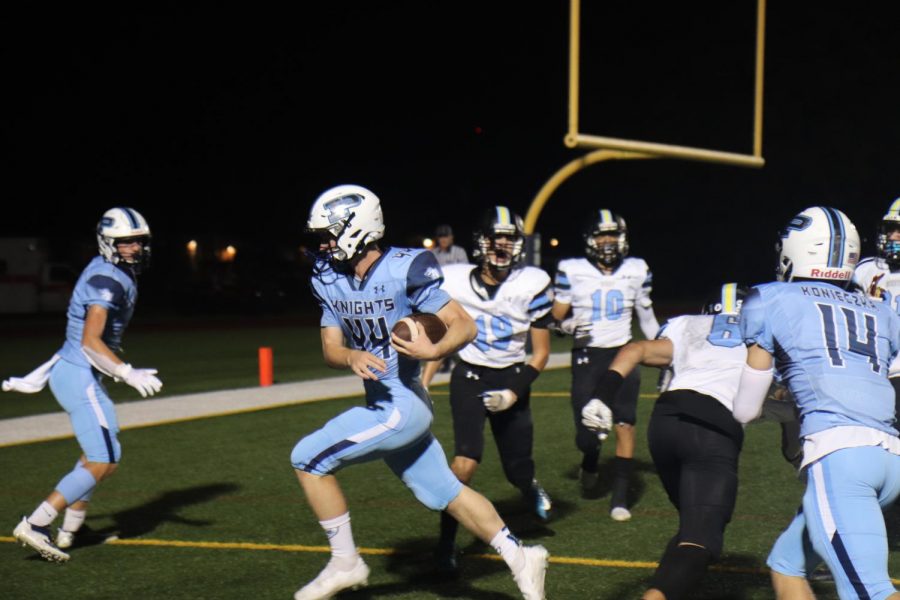 Knights Rebound in Blowout Homecoming Victory
September 19, 2021
After suffering a 34-27 loss in the Knights previous game, they rebounded to the tune of 50 first half points in their homecoming game. The offensive explosion was led by senior running back Matthew Raitano as he scored the Knights first and last touchdowns of the game. Raitano also made an impact on special teams by blocking a punt.
"Everyone did their job, everyone was blocking … we just wanted to respond from last week," Raitano said. "We wanted to win and play penalty free football."
There wasn't another score in the second half as the 3-1 Knights were able to hold the 1-3 Maine West Warriors to a final score of 50-0.
"I would say it was a great team win but we had some great blocking by the [offensive line] across the board," senior center Clayton Kamp said. " … It's great you got to respect the o-line if you know what I mean."
The running game was strong for the Knights as junior quarterback Frank Covey was able to pick himself up a rushing touchdown and added 67 yards rushing while junior running back Gavin Flanagan also ran for a touchdown. 
"I love being the man behind the blocks," Kamp said. "I love those big runs, yeah!"
The passing game was also full in force for the Knights as senior wide receiver Owen Walter broke off a 61 yard touchdown while junior wide receiver Jake Parisi hauled in two touchdown catches.
"I thought everybody stepped up and did a nice job and even the guys that got to get in towards the end of the game I thought they did well," head coach Dan Deboeuf said.
Since the score was what it was, it opened up an opportunity for some other players to get some playing time. 
"Those guys do an awesome job on scout team all week and it's important that our seniors remember what it was like when they were sophomores and juniors on scout team," Debouef said. "We're one big family and we cheer for each other."
Not only did the team cheer for each other but The U showed out as well. 
"I like to think it's similar to the Penn State white out," Raitano said. "That's a cool atmosphere and I think it represents that here too."