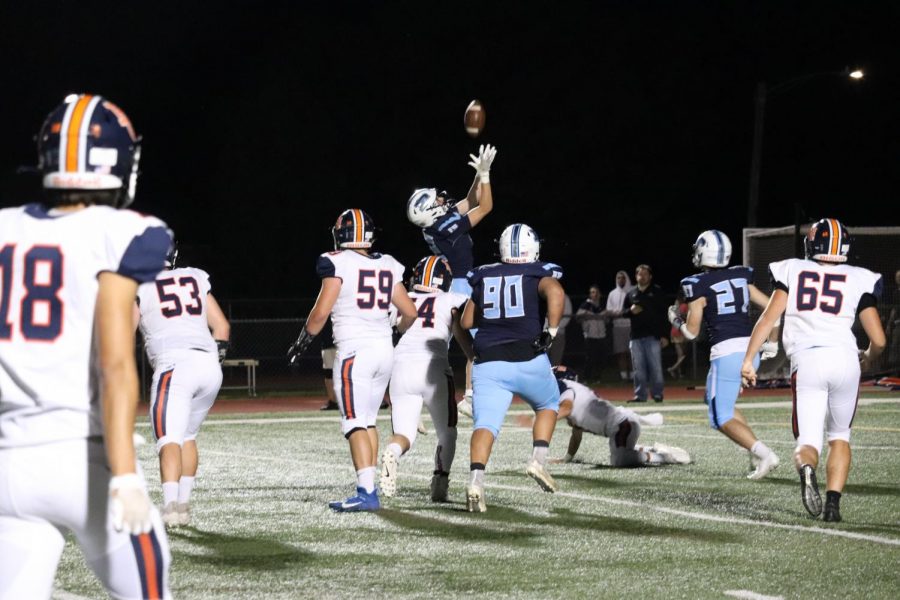 Defense Leads the Way in MSL East Opener
September 25, 2021
The 4-1 Buffalo Grove Bison offense had been averaging nearly 48 points per game until they faced the 4-1 Prospect Knights. The Knights defense proved to be a real test to the Bison as they held them to just one touchdown. 
They were an offense that threw the ball just 12 times against the Knights, but their last throw was the most costly. Down 17-14, Bison quarterback Michael Cervantes threw an interception to Gino Paredes which iced the game for the Knights.
"Our defense man, you can't say enough about those guys," head coach Dan Deboeuf said.
The Knights defense forced numerous turnovers throughout the night, including an Elyjah Sepulveda fumble recovery and Charlie Caroll deflecting the ball at the line of scrimmage and hauling in the interception. 
"The defense played out of their mind, I love them for that," quarterback Frank Covey said.
The offense didn't start out as fast as the defense did. On the first drive of the game the Bison picked off Covey and returned it for a touchdown. A failed fourth down conversion on the next drive would allow the Bison to drive down the field and score a touchdown, resulting in the Knights being down 14-0 early.
"We couldn't get the juices flowing right, I take a lot of credit for not getting all of us pumped up and talking out there on the field. Once we found our rhythm we were good," Covey said.
On the first play of the second quarter Covey was able to punch it in on a one yard touchdown run. Covey would then score his second rushing touchdown of the game on a three yard touchdown run to put the Knights up 17-14 in the fourth quarter. 
"It was great, those two touchdown drives were awesome," Covey said. "It was a complete team effort. The o-line was just moving, I mean the running backs and I just hit [the holes] … it was easy when the o-line played that good."
Covey finished the game with 57 yards on the ground and 126 yards through the air. Matthew Raitano also had a solid day running as he picked up 83 yards rushing on 17 carries.
This win for the Knights had some extra value since it was the first of MSL East play. 
"[Buffalo Grove] is a great team … that was a great first [MSL East] game to test us," Covey said. "All of our weeks since [the loss to St. Francis have been] about how we were going to respond to good teams and I felt we responded pretty well right there."
In a game with as much meaning as this one had, it's important to never count out either team.
"It was a really good game, the biggest thing was the belief the kids had in each other and our ability to battle adversity," Deboeuf said. "We were down 14-0, we could have faded away but we didn't so I was proud of our guys for that."