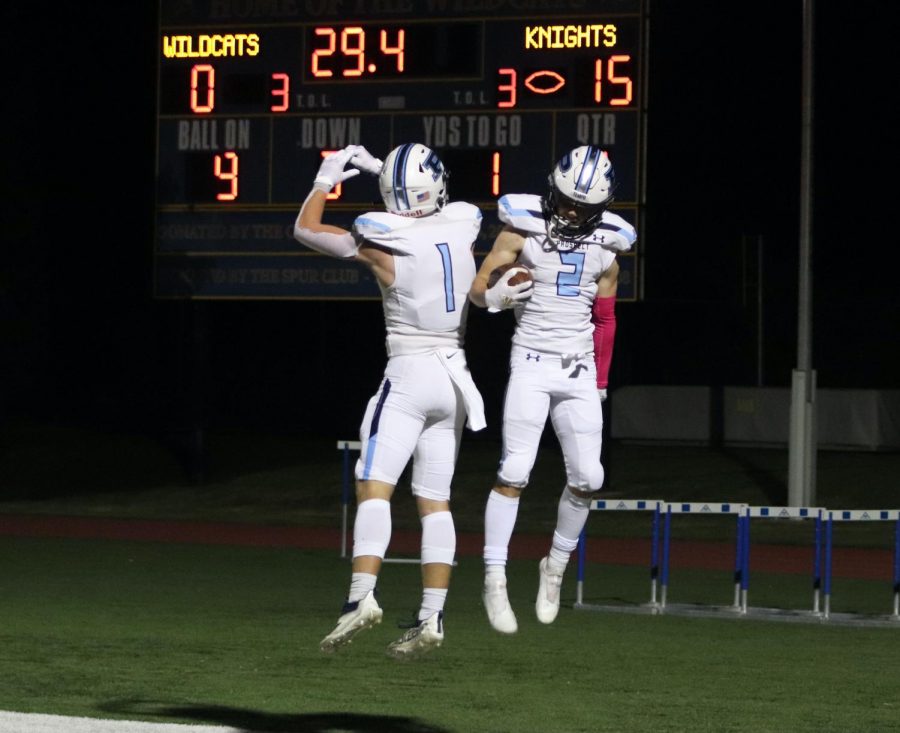 Knights Win Big at Wheeling
October 5, 2021
The Prospect Knights were heading into week six with big time confidence after last week's Buffalo Grove victory. 
The Knights wasted no time getting going against the Wheeling Wildcats when Frank Covey threw a touchdown pass to Owen Walter making it 7-0 in the first quarter.
With 3:17 left in the first quarter, the Knights senior Ethan Rossi recovered a blocked punt for a touchdown. The two-point conversion was completed by junior wide receiver Brad Viernisel, making it 15-0.
On the Wildcats next drive the Knights defense put them back on the sidelines after they failed to convert on 4th and 4.
The Knights continued to dominate the rest of the first half. Junior wide receiver Jake Parisi led the team with two touchdowns heading into the second half, with a 36-0 lead.
"It feels great man, it's a privilege to be a part of the team I'm playing on and to be in such a fast tempo offense," Parisi said.
To start the third, the Knights came out and scored immediately. Vierneisel threw a six yard touchdown pass to junior wide receiver, Sean Koniezcka. 
The Wildcats' continued to struggle throughout the game as they managed to put up only six points on their last drive of the game, leaving the final score to be 50-6.
"I think it was really beneficial to have played so many home games before our second away game," Parisi said on the Knights blowout. "It helped us come together and get used to playing together." 
Aside from the team camaraderie, one of the biggest factors for the Knight's victories has been their defense. After only allowing 14 points in the Buffalo Grove win last week, they allowed just 29 yards the entire game against Wheeling and six points total.
Moving forward to next week, Prospect heads to Elk Grove with confidence in an attempt to ruin another homecoming game.
"Our mood heading into this next game [was] really great because we're coming off three strong wins and are hoping to carry on with another so we are ready for the tougher games in our schedule," Parisi said.