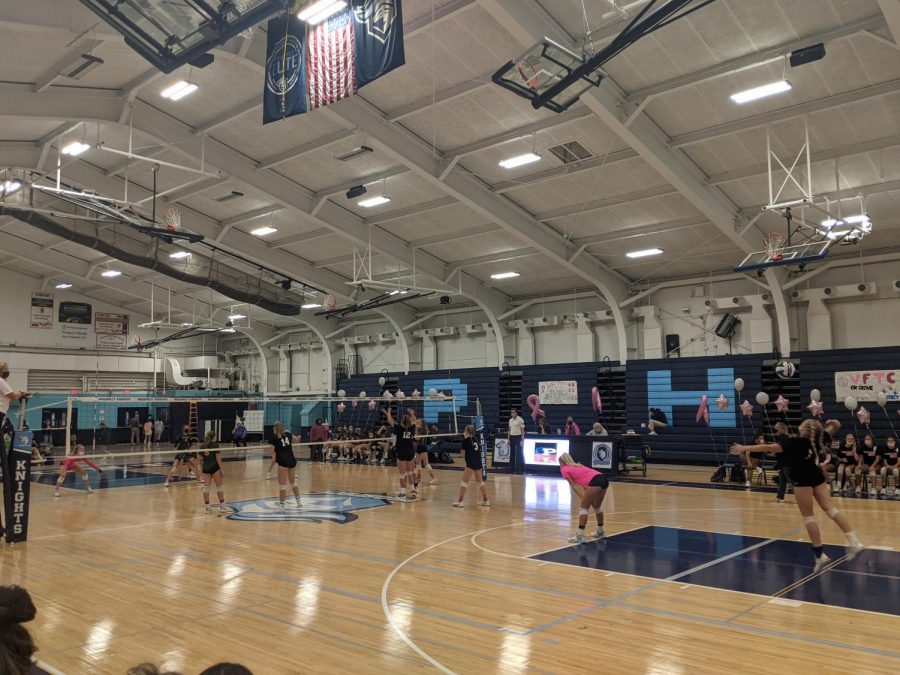 Multiple Wins at Volley for a Cure
October 7, 2021
The Knights were not the only winners in a two-set victory over Elk Grove on Tuesday, Oct. 5 
Tuesday marked the 13th annual Volley for a Cure match, which every year is held to raise money and awareness for breast cancer.
The event had been canceled last year because of the pandemic, but Girls Volleyball head coach Laura Gerber couldn't have possibly been more thrilled about its return to Jean-Walker.
"It's just nice to have a purpose again," Gerber said. " A lot of our families have been touched by cancer, and this is a great way to give back to the community."
Players were tasked with selling ten Volley for a Cure T-Shirts for $10 each to raise money for the event. With the T-Shirts along with a raffle, the team raised a grand total of $4,700. All of that money is set to go towards gift a mammogram, which provides mammograms for those unable to afford them. 
"Being able to help by using the resources and privileges that we have here is really [important]." Senior middle hitter Kayla Hayes said.
Besides a Knights win and Volley for a Cure, the next biggest win of the night was seeing a jam-packed Jean Walker Field house for the first time since Prospect basketball hosted sectionals in March of 2020. 
The U made its return as well, making its presence felt throughout the game.
"The louder the U gets the more excited the kids get; they definitely play off of adrenalin," Gerber said. "It's just nice to have kids, supporting athletes here. It's fun to see."
Prospect came out of the gates hot and confident, taking early commanding leads in both sets. Big Blocks from Hayes and Senior Summer Srodulski set the tone early in the first set and allowed Prospect to jump out to a 12-7 lead. 
Elk Grove was able to claw back within three 14-11 but was only able to muster four more points the rest of the set. Prospect won the race to 25 by ten and took home the first set.
Set two was a similar story, but Elk Grove's Lilly Duckman had the hit of the night to give the Grens an 11-9 lead and the momentum. But, that momentum shift wouldn't last long as a consecutive line violation and hit out of bounds brought the Knights back into the game. Prospect never looked back after that and brought home a win on one of the biggest events of the year.
"It makes it come to a great end,  you've worked really hard, you sold the T-shirts and then you're in front of all of your friends," Gerber said. "Nothing is better than to take a win on a big night"