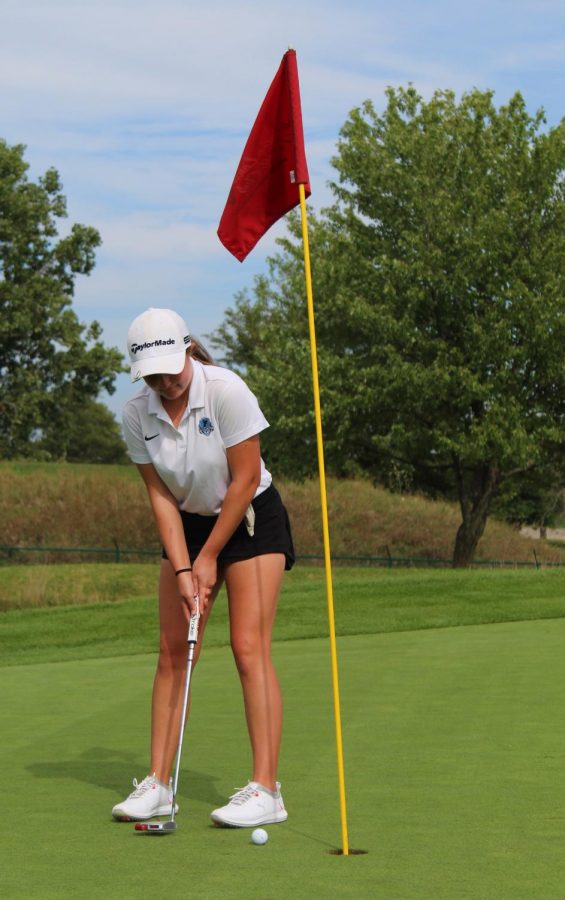 Headin' South Solo
Prospect Junior Kate Riesing Qualifies for State
October 7, 2021
After number one senior golfer, Abby Knott, was unable to play at sectionals, junior golfer Kate
Riesing had to step up and play her hardest.
She started off a little rough, but with the encouragement of her coach, Brad Rathe, she picked up the pace and started playing better.
She didn't expect to make it to state, but since she did she felt great.
"I was really happy and my team was happy for me and they were all hugging me and I kind of felt proud of myself," Riesing said.
Against 15 other schools playing at Poplar Creek, Riesing placed 13th overall.  Once qualified golfers whose team made it to state were removed,  she placed sixth in the meet with a score of 10 over par.
The top 10 golfers advance to state, so because of the removal of those players, Riesing will be playing on Friday at Hickory Point in Decatur, Illinois.
Riesing's goal is to play well enough in the first round to earn a spot to play on Saturday, and then hopefully end up on a podium at the end of the weekend.
Although it would have been fun for the team to all go together, Riesling is alright with
going alone since some of her teammates and friends including Juniors Maia Johnson and Izzy Klicker are taking a rod trip to support her. Even if Riesing doesn't make the first cut she is still happy to be playing in a place where history is made.