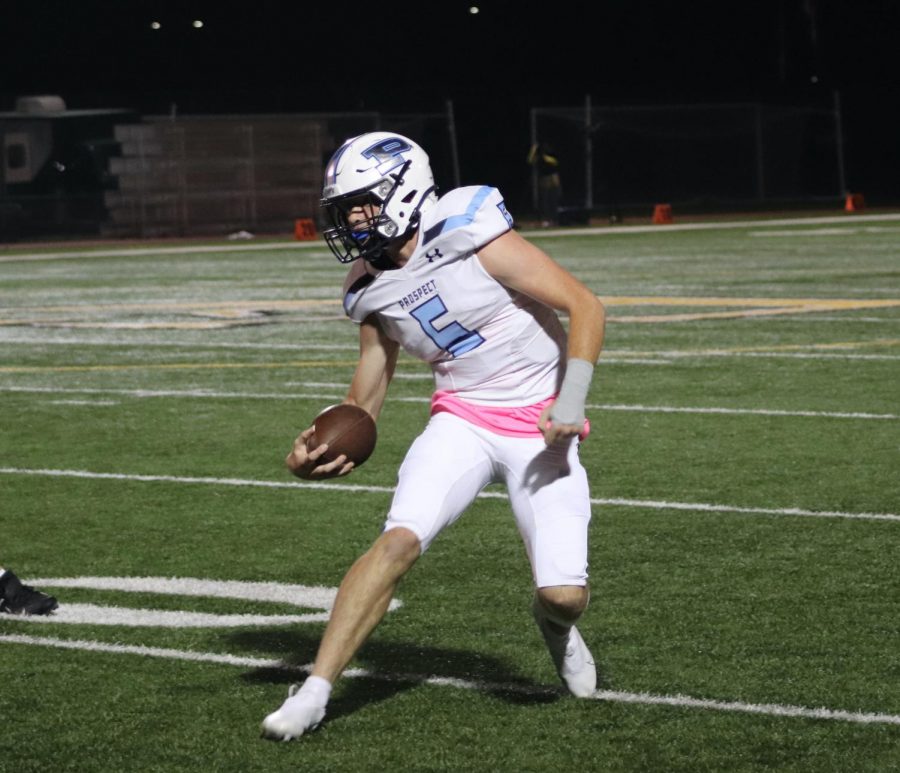 Prospect Dominates Elk Grove on Both Sides of the Ball
October 12, 2021
The Prospect Knights blew out the Elk Grove Grenadiers by 50 points with the final score being 57-7. This was Prospect's third win in conference and made the knights 6-1 overall, while the Grenadiers dropped down to 2-5 overall. 
Early in the game Prospect had trouble handling the ball. At 9:53 in the first quarter, the Grenadiers got the ball back on a muffed punt, but wasn't able to score. Then at 8:35, wide receiver Jake Parisi fumbled but Elk Grove couldn't convert again.
A few minutes later, Parisi ran 12 yards for a touchdown along with the extra point by Benjamin Sahakian to put the knights up 7-0. 
In the second quarter, Brad Vierneisel caught a pass from quarterback Frank Covey for a 51 yard touchdown. 
"It was a real nice experience," Vierneisel said. "I heard the crowd going crazy and I felt really good about that."
Before that, Gino Paredes intercepted a pass to give the knights possession of the ball. Vierneisel ended up with three receptions, which was the same for Sean Koniezcka.
Covey had a rushing touchdown later in the second quarter and ended up 13-17 with 216 passing yards and two touchdown runs.
At the end of a dominant half for Prospect, the score was 29-0 for the Knights. Then came a pair of touchdowns, one from Gavin Flanagan and another from Covey which led to the Knights had 43 points. 
There was a big play that stood out for the Grenadiers after Flanagan's touchdown run, Grenadier quarterback Mitch Janczak threw an 80 yard touchdown pass to Sebastian Halilovic. Janczak ended up 12-32 with 196 passing yards. 
With about eight minutes of the 3rd quarter left, they started the running clock. The rest of the game there was only one more touchdown which ended the explosive performance for Prospect. 
Next week Prospect is playing Hersey in a rival showdown against Hersey, which also happens to be their homecoming, so Vierneisel expects it to be a good game.
"The fans are gonna be crazy," Vierneisel said. "There's gonna be a lot of people there, and I think it really depends on how we start off. If we start off slow it's gonna be a long game, but if we can start off fast they're not gonna have a chance."