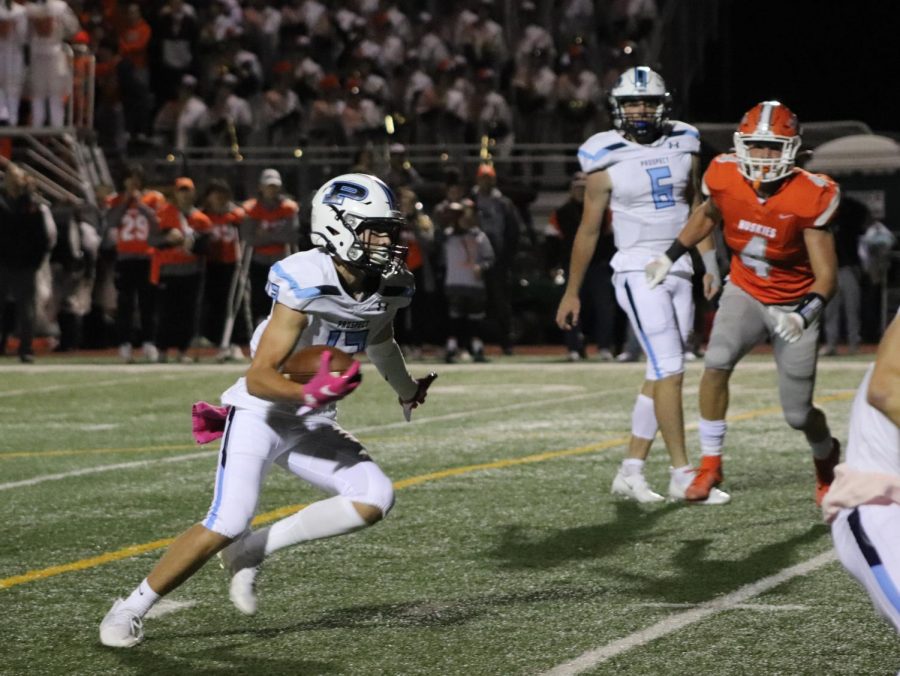 Knights Spoil Huskies' Homecoming
October 16, 2021
With less than a minute left of the fourth quarter, the 7-1 Knights were looking to close the game against the 7-1 Hersey Huskies, on their homecoming. It was 4th and 14 and up by one point, the Knights defense needed to make a stand. 
Husky quarterback Jimmy Makuh fired the ball to the left sideline but the pass was forced incomplete and the Knights would come out on top, 24-23. 
"It was so rewarding just from the lone point that both teams competed and it just makes it all the more worthwhile when you're victorious in a battle like that," senior defensive back Decker Anderson said.
With that win, the Knights clinched the MSL east title for the second consecutive season.
"It feels great to achieve a goal of ours that we've been working for," Anderson said. "… with this group of guys I love accomplishing a goal like that."
Head coach Dan Deboeuf was just as glad and had his own message heading into the game.
"It was a frickin blast the whole time," Deboeuf said. "What we talked about before the game [was] to just really enjoy this moment because this is an awesome atmosphere. We had an absolute blast and I am glad we finished on top."
It was the kind of atmosphere that was missed so much during last year's COVID-19 season, The U was full in force, like usual, and it being the Huskies' homecoming, their side was packed as well.
"It was crazy at the end of the game it was hard to hear what the calls were," Anderson said. "I would look around [and] I would see all the stands packed and people all around the sides of the field, it was just an atmosphere I've never been in before."
Both teams put on a show for the crowd, as evidenced by the final score. The Huskies scored first with a trick play as running back Josh Bontje threw a touchdown pass to Makuh but the Knights quickly took the lead back.
At the end of the first half the Knights were up 21-7 after a strong showing by the offense. Wide receiver Brad Vierneisel scored first for the Knights on a 4-yard rushing touchdown and then quarterback Frank Covey ran for one and threw for another. Covey connected with a wide open Vierneisel for a 35-yard touchdown pass nearing the end of the half.
The Huskies battled back and when a snap went out of the endzone on a punt attempt late in the fourth quarter they brought it within one. The Knights stayed strong and their defense came through to seal it.
"It just goes right to what we have been talking about," Deboeuf said. "How do you respond to negative situations and we had our fair share of negative things, whether it was me calling a terrible fake punt or whatever we were doing. I was super proud of the guys for how they battled through that adversity."