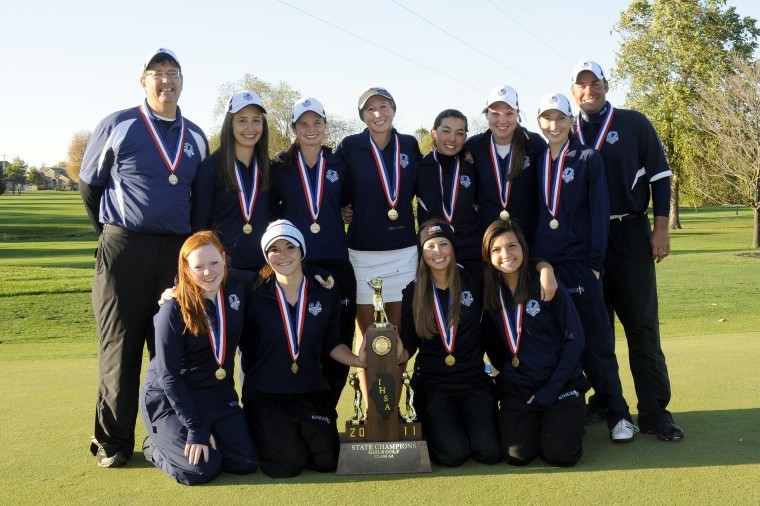 Girls' Golf Celebrates 10th Anniversary of State Championship
October 24, 2021
On Oct. 22, Prospect's 2011 girls' golf team came together to be recognized at halftime of the football game against Rolling Meadows High School to celebrate the 10th anniversary of their state championship. Not only did they win state together, but they were the first girls' team from Prospect to do so in history. 
"To actually pull it off [and win state], it was awesome, but it didn't seem like such a big thing [in the moment]," 2012 alum Sarah Scaccia said. "Now being back, I didn't realize how big of a deal it was … [to the] community [until now]."
Eight of the 10 girls that went to state returned to Mount Prospect for the reunion, still realizing the impact of their success. Many embraced each other in hugs on that emotional night after not seeing each other for nearly a decade. 
"Oh, everybody's just so excited to see each other, and it's just such a great feeling to see them again," former girls' golf head coach Jim Hamman, and current boys' golf head coach, said. 
They met in the community room to recount their past seasons together with their 2011 trophy sitting in the front of the room and numerous photos of them together decorating the walls. 
"I mean they are definitely legends," Hamman said. "I mean the impact as far as what they've done leadership wise and what they've done character wise just sets a great example for all teams here at Prospect."
The girls may not have much time for playing golf competitively now that they are pursuing other careers, but they still carry a lot of the memories and lessons they learned from their time playing at Prospect.
"[I learned to] definitely work hard and have fun," 2012 alum Christine Garmoe said. "Enjoy every second … regardless of if you make it to state or not [or] whatever stage or competition you're doing with your team, it's always just a ton of fun to be all together doing it all together."