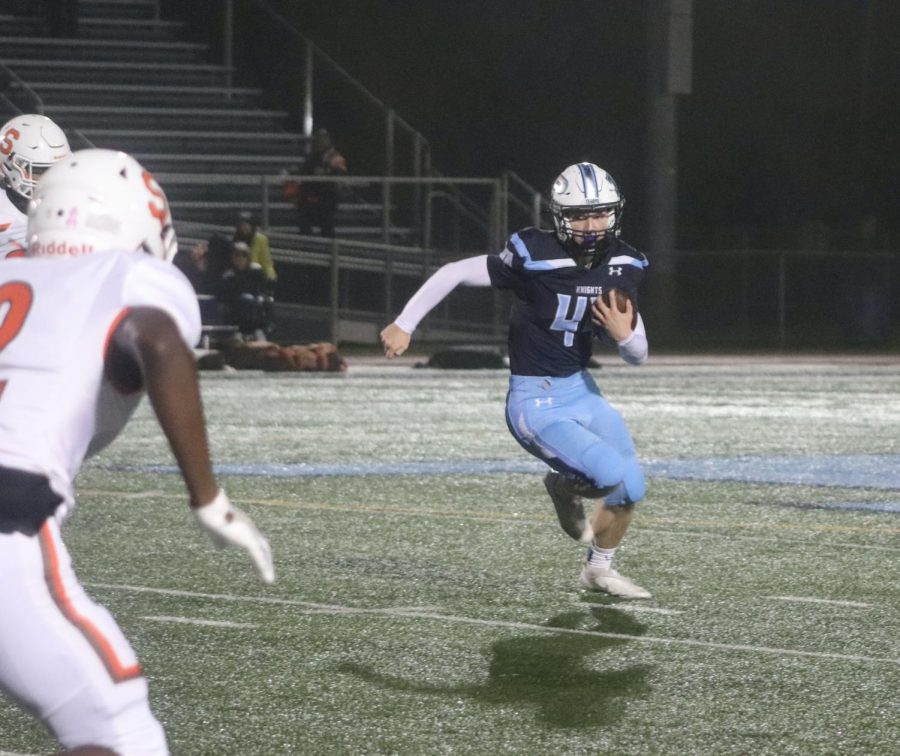 Knights' Run Game, Defense Leads the Charge in Playoff Win
November 1, 2021
10 carries, 112 yards and three touchdowns is a phenomenal game for any running back. That was the statline for senior Matthew Raitano, in the first half.
"It was a blast, I owe it all to the big boys up front," Raitano said. "I had faith they were going to make the hole every single time so I was able to have an easy job and run right through."
Raitano only had two more carries in the second half and would finish with 116 yards on the ground due to the fact that heading into the half the Knights led the Shepard Astros 28-0. 
"[I was] super proud of [Raitano,] I think the message to the guys before the game too was just how far the senior group has grown since they were freshman," head coach Dan Deboeuf said. "[Raitano's] had that growth from his freshman year and even his growth this year, from the beginning of the year till now, so I'm super happy for him."
The Knights would finish on top 35-7 and advance to the next round of the playoffs. They will be playing the winner of Buffalo Grove vs Lincoln-Way West.
All of their offense came from the ground game. Aside from Raitano, junior Gavin Flanagan had himself a 40 yard touchdown run and quarterback Brad Vierneisel (who was playing in place of an injured Frank Covey) had 43 yards on the ground and a touchdown.
"It's great. We get another week together," Deboeuf said. "We're going to take it one day at a time. We are going to enjoy tonight then get back to work tomorrow. We're just going to continue to go one day at a time and try to enjoy every extra minute we get."
The Knights defense also had a very impressive performance as it wasn't until late in the fourth quarter that the Astros even got a score and they didn't allow a first down until the second quarter. Senior Gino Paredes led the charge on defense as he hauled in two interceptions.
"I thought our front seven played really well and the secondary, like [Paredes,] really filled the alleys well," Deboeuf said. "[We] tackled well, swarmed to the ball well and played a clean game. Penalty wise it was very clean for us."
The team was just happy to be back in the playoffs after COVID-19 took away the state tournament last season.
"It was fun," Ratiano said. "[It was] something I didn't get to experience last time because of my broken collarbone so it was fun just to get out there and I didn't want my football career to be over so I just went out there and gave it my all."