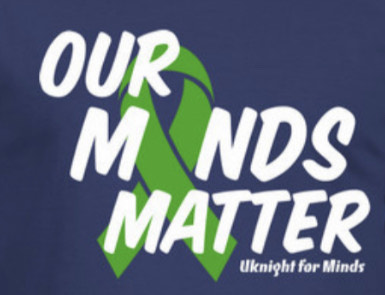 U Knights for Minds Taking Steps Towards Better Mental Health in Prospect
November 4, 2021
Following September being national suicide prevention month, U Knights for Minds set up a table outside of the lunch room to promote good mental health. Members of U Knights for Minds handed out black bracelets with the words "It's OK to not be OK" and "Have Hope" on them. 
U Knights for Minds was officially started during last school year because of the mental impact of the pandemic and learning from home. According to staff sponsor and physics teacher Michelle Tantillo, she wanted the club to be a contact point for students during such a difficult and strange time. 
Now, U Knights for Minds is working on putting out monthly newsletters to spread awareness and give out information about mental health. There are QR codes around the halls so that students can easily access the newsletter. Members also put up information flyers around the school for national suicide prevention month. 
Even though this club is a contact point for students, it's not meant to mirror therapy.
"It's really just a community of people that are there for each other in terms of sharing," Tantillo said. "That's a big part of this club."
Not only are members allowing each other to see it's OK to get help, U Knights for Minds also researches mental health to inform the student body. Members explain what it looks like to struggle with certain mental health issues like depression, anxiety and many others. During the changing seasons right now, the club is focusing on seasonal affective disorder, which could be affecting many students at the moment. 
Starting in January, under a bill signed by Governor J.B. Pritzker, the state of Illinois is allowing students to take up to five mental health days off of school without the need to show a doctor's note. 
Tantillo loves this new bill and also thinks there should be more days for students, but it is an amazing start. 
"If you are struggling with something, that should be taken just as seriously as if you are fighting the flu," Tantillo said. 
She thinks students should not be jumping through hoops or lying about being ill just to take a day to help themselves. U Knights for Minds is trying to bring awareness that, as cliche as it sounds, it is OK to not be OK. It is OK to reach out for help. It is OK to say "I can't, I'm struggling." 
"Life is a journey, and this journey is hard," Tantillo said. "So, find people who are there for you, because there are people."