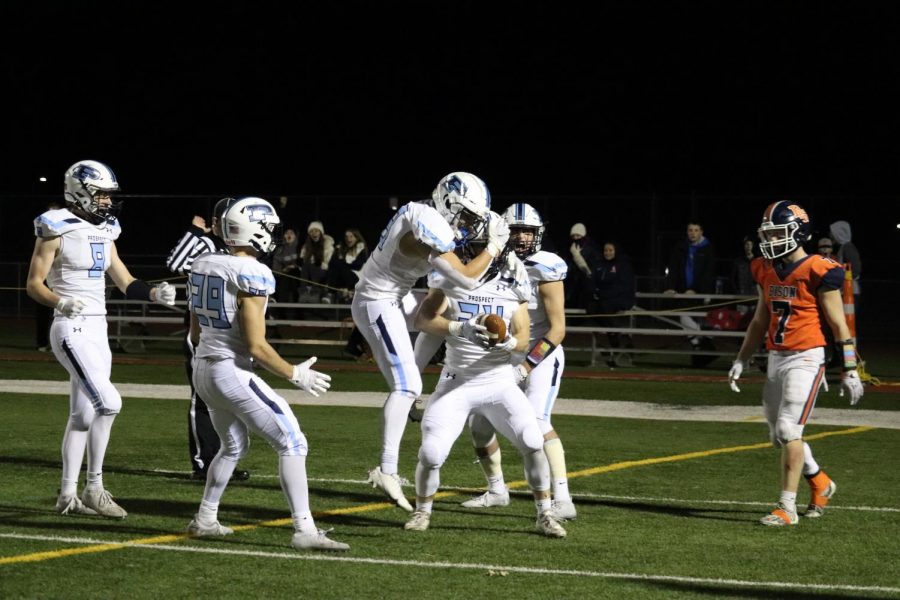 Knights Take Down Bison in Second Round Playoff Win
November 8, 2021
Already down starting quarterback Frank Covey, it seemed as if the 11th seeded Knights' season would take a turn for the worst when backup Brad Vierneisel went down early in the second round of the playoffs with an injury. 
That would not be the case, however, as sophomores Matt Guza and Griffin Limbers stepped up for the Knights in their 13-8 win over the sixth seeded Buffalo Grove Bison to advance to the quarterfinals.
The two sophomores weren't the only ones stepping up at the quarterback position, wide receiver Owen Walter got some snaps in a wildcat offense and even picked himself up a rushing touchdown.
"I had a blast tonight," head coach Dan Deboeuf said. "[It was] crazy circumstances, you know we are down our starting quarterback then [Vierneisel], who's been awesome, [had a] great first drive then he's out. Then Guza goes in there for a little bit, Limbers goes in there for a little bit, we make up wildcat on the sideline and [Walter] goes in there."
Deboeuf couldn't be more proud with how his quarterbacks played.
"I think the hardest part is they haven't practiced," Deboeuf said. "They have been scout team guys, which they've done an awesome job at and I think all of them are more than capable. We just have to get them ready to play … [but] the thing I was most proud of with [Limbers] and Guza was when they went in there they weren't nervous. They just did the best they could and the other guys rallied around them so we did enough to take the win."
Even with four different quarterbacks playing throughout the night, the Knights were still able to pull out the victory and will take on the 19 seed Jacobs in the quarterfinals at home.
Luckily for the Knights, they also had their defense to fall back on as they only allowed six points all game. The other two points the Bison scored came off a safety in the fourth quarter.
"Man you can't say enough about our defensive staff [and] defensive players," Deboeuf said. "I mean they won the game tonight. Back on the field, back on the field, back on the field, for them to hold at the end was incredible."
The Knights had two interceptions and they both came at crucial points. With about a minute to go the Bison were driving down field and threw to the end zone but Decker Anderson was there to intercept the pass and ice the game. 
"I just saw the ball in the air and I just made an attempt at it and realized I came down with it and I just started going crazy," Anderson said.
The other interception came the drive before and it was cornerback Ethan Rossi this time hauling it in. This is a defensive unit that has been performing like this all year and they really have a special bond.
"11 games together, we're all seniors, we have nothing to lose, we're giving it our all," Anderson said. "We're all a tight, close knit group of guys."
Heading into week 12 the Knights are just looking to do more of the same.
"Everyone predicted us to lose this game, nobody had us going this far and we're going to prove them all wrong," Anderson said.