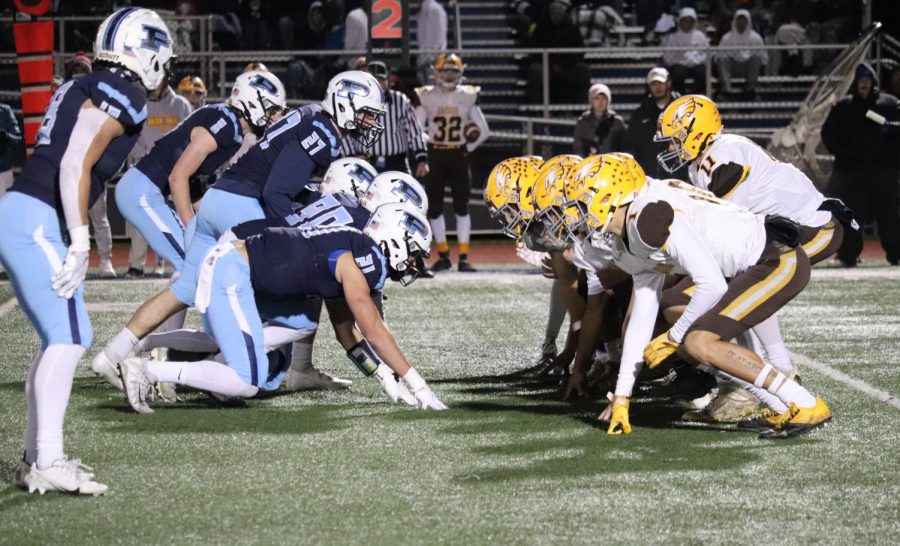 Prospect Stuns Jacobs in Thrilling Quarterfinal Win
November 14, 2021
The Prospect Knights have not hosted a quarterfinal game at Gattas since 2006. So they made sure to put on a show Saturday, Nov. 13 against the Jacobs Golden Eagles.
"It was a blast, the atmosphere was crazy," head coach Dan Deboeuf said. "I had a ton of fun tonight for sure."
59 seconds into the game and the Knights already had 15 points on the board. The scoring started off on the ground with a Matthew Raitano 54-yard touchdown run and he would finish the game with 15 carries for 107 yards. The Knights then went on to go for a 2-point conversion with a direct snap to Jake Parisi and he would make the score 8-0 en route to the Knights 35-21 victory.
"I'm just really proud of our team," Deboeuf said. "We've obviously seen a ton of adversity the last couple of weeks with all the stuff going on, [and] obviously our kids came together and frickin played super tough."
The second early score came on the Golden Eagles first play when a muffed snap ended up in the hands of Charlie Carroll who was able to just walk into the endzone and make it a 15-0 game. 
The next two scores would be Ben Sahakian field goals but the defense continued to hold strong all game, like they have been doing all season.
"We knew our defense was going to play awesome like they always do, so we were super happy with everyone's performance," Deboeuf said. 
The Knights defense was able to pick off the Golden Eagles twice, the first time coming from John Gavin and the second was a pick-6 by Nick Grassano which would ice the game and secure a Knights win.
"[The defense's performance was] huge and hopefully no one gives them credit again. It just keeps getting them riled up so we'll take it," Deboeuf said.
The story on offense, however, was the quarterback position. With uncertainty at who would start, wide receiver Owen Walter stepped up and ran a wildcat offense.
"He's got a heart of gold, I mean to come in and learn a whole new offense this week [is difficult] and he ran it smoothly," Deboeuf said.
Walter had a lot of work in the ground game as he picked up 140 yards rushing on 17 carries. Even with these stats, picking up the quarterback position was not so easy for Walter.
"Honestly Monday I was freaking out, I was scared," Walter said. "I thought it was all over and then coming throughout the week like Tuesday I felt more comfortable, Wednesday then Thursday … everything just clicked. I was ready, I was like 'let's play tomorrow, why aren't we playing Friday,' but Saturday was the time. We came out, we were all ready and got a good night rest Friday night and [we] balled out."
Brad Vierneisel, who had been dealing with a shoulder injury he suffered against Buffalo Grove last week, came in for one play and made it an impactful one. He stepped in and threw a 20-yard touchdown pass to Gavin Flanagan before letting Walter finish the game.
With this Knights win, they will be headed to St. Rita to take on the Mustangs Saturday, Nov. 20 at 6 in the semifinals. 
"It honestly was amazing, it was well deserved," Walter said. "All of our teammates, our entire team, we're all brothers and we all have been fighting since June for this."