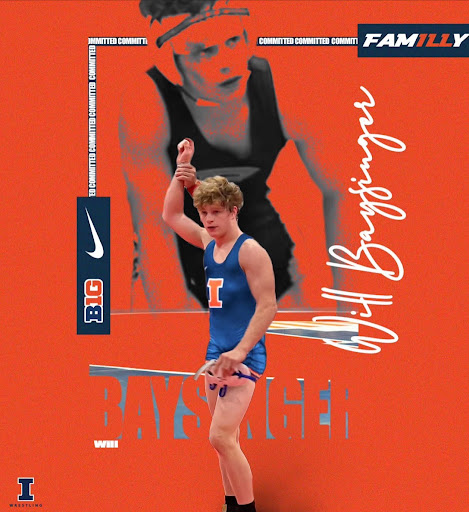 Wrestling Star Commits to the University of Illinois on National Signing Day
November 14, 2021
On Tuesday, Nov 9. or National signing day, Prospect star wrestler Will Baysingar, who is ranked 24 in the country, will be wrestling in either the 126 or 132 weight class, committed to the University of Illinois. 
"I will get good partners and great coaches at Illinois," Baysingsar said. 
Baysingar chose Illinois because he wants to represent the state of Illinois and be an Illini. 
"Their work ethic in their wrestling room," Baysingar said. "The coaches are always teaching and wrestling with the kids." 
Baysingar won state last year as a sophomore in the 120 weight class and is hoping to do the same thing in his new weight classes.
"There is a lot of thrill and fun," Baysingsar said. "I like getting the challenging matches to see where I am at the next level." 
We as Knight Media recognize the commitments of Cade Cory, Brady Jensen,  and Peyton Burgh for baseball. We will recognize them more in the spring along with senior basketball star Andi Will