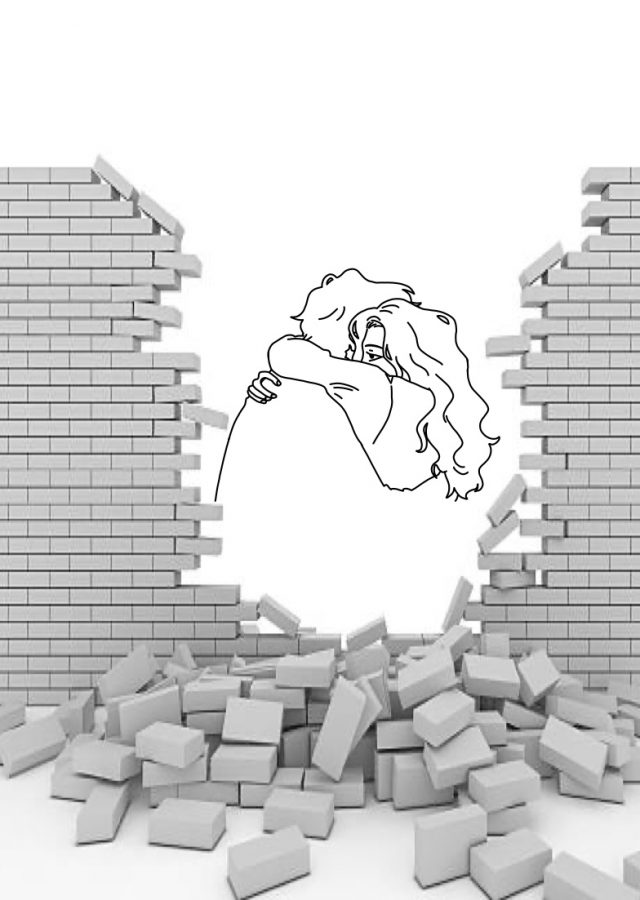 Prospect Family Faces Border Separation Through Holidays
December 8, 2021
After their youngest daughter had graduated from college in Mexico, current Prospect parents Lorena Alvarez-Venegas and Luis Hernandez-Larios decided they were going to move to Mount Prospect together for good. Hernandez-Larios has retained a permanent residency status in the U.S. since 1990, but after meeting his wife in Mexico, the two chose to settle down there.
While Hernandez-Larios had been living in Mount Prospect with his oldest son since 2017, along with their youngest son, Alvarez-Venegas stayed in Mexico to care for her grandchild while her daughter completed medical school. In 2020, Alvarez-Venegas returned to the U.S. along with their youngest son intending on staying indefinitely and achieving permanent residency. But after deciding on making a brief trip back to Mexico to attend her daughter's graduation ceremony and returning to the U.S., she was told by an immigration officer there that she needed to return to Mexico.
It has now been over two years since Alvarez-Venegas has been with her husband and two sons who are now living in Mount Prospect. 
"It's hard [raising my sons by myself] after being married for … 28 years, and this is the first time I've been separated [from my wife] for two and a half years," Hernandez-Larios said. 
It wasn't until he was without her that he understood how much work all the household responsibilities include from cleaning to cooking and more, all things that his wife did on a daily basis. Learning to balance these tasks along with raising his two sons was challenging to adapt to at first, but the three all work together to lighten the load as much as possible. 
As the holiday season nears, Alvarez-Venegas has plans to meet with her extended family in Mexico, even though she can't be with her husband and sons at that time as well. To minimize the distance between them, however, they talk on the phone every day without fail. Topics such as the weather, their daily lives and any news from the rest of the family comes up on those calls, but just speaking to each other makes their family feel a little more connected. 
Hernandez-Larios first immigrated to the U.S. in May of 1976, eventually obtaining a permanent residence in 1990. He started a meat shop in Mexico, but his permanent residency required him to be traveling back and forth between Mexico and the U.S. to retain it. He attended school in Mexico, where he met his wife in 1989. By 1993, the two had gotten married. 
Alvarez-Venegas refused to move to the U.S. because she couldn't bear to leave her mother, who was living in Mexico. They raised two daughters together in Mexico, and, in 2004, Hernadez-Larios told his wife that if they were to have another child, he wanted them to be born in the U.S., hoping this would encourage Alvarez-Venegas to move north. 
Their first son was born in 2005 in the U.S., and they tried to give life in the United States a shot. However, as the months passed, Hernandez-Larios found himself returning home from work, seeing his wife crying nearly every day, desperately missing her home in Mexico. 
So they moved back as a family, but not without sacrifice. In order to maintain his residency status, Hernandez-Larios was forced to stay in the U.S. for three to four weeks before returning to Mexico each year. 
"When you're going back and forth, it's really hard, but everything works itself out in some way [in order to be together]," Hernandez-Larios said.
To Hernandez-Larios, that period of traveling was easy compared to now. Alvarez-Venegas's lawyer told her that her travel visa, which they hope to then turn into a permanent residency status, may not get processed and allow her to return to the U.S. for another 18 to 24 months. 
"[I felt] very sad [when I got notified about having to leave," Alvarez-Venega said, in an interview translated from Spanish. "To stay strong in this situation, I think about the hope that the papers will [get approved for me to get a visa] and allow us to meet again sooner." 
As the number of days of separation keep ticking up, Alvarez-Venega hopes the time until coming home keeps diminishing. Constantly, Alvarez-Venega prays for the reunion between her and the rest of her family. Her paramount desire is that she will be in Mount Prospect by next year. 
"No one wants to be away from your wife or your partner or their mom or your children," Hernandez-Larios said. "But sometimes you've got to pay the price. If we want to be here [together], we've got to do what we've got to do."