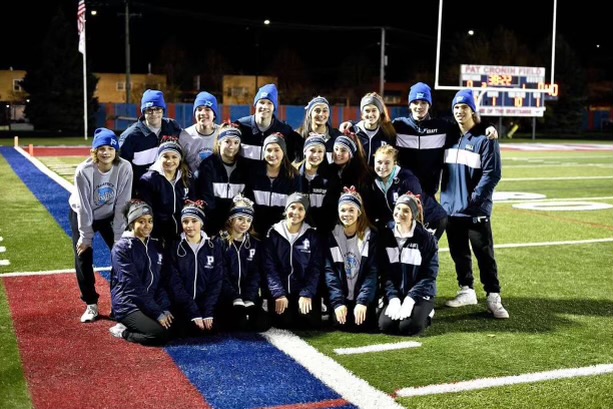 Cheer Now Competing in Coed Division
December 14, 2021
For the first time in a long time, Prospect varsity cheer will be competing as coed for the 2021-22 season, meaning that they will meet the minimum of two boys on the floor. 
This change in divisions from the Large Team Division, to, now, the Coed Team Division has brought about much change to the team. With six boys currently on varsity, and five of them  having a spot on the mat, the dynamic of the team has experienced a positive shift, according to head coach Kailani Norwell, who is a 2016 PHS graduate in her second year of coaching cheer. 
"I would say the biggest difference between an all-girl team and a coed team is honestly the way the team dynamic can change a lot," Norwell said. "So, instead of having just a big group of girls, you know, intermix some guys into the mix, [and] it can shake things up."
In seasons past, the varsity team competed as an all-girls team, and although there was one boy on varsity last year, they did not meet the minimum requirement of two boys needed to compete in the coed division.
Senior Cal Kraft, who has been doing gymnastics since 2011, decided to join cheer this year with one of his friends, who is also a gymnast. While going out to lunch one day, they made the mutual decision to try out for the team in their last year of high school.
"We were talking," Kraft said. "I think he was doing diving and he didn't really want to do it, so another friend brought up cheer, and I was like, 'Why don't we do cheer?' So, we decided to."
Kraft had been asked to join cheer by other members of the team in the past, but it was not until that moment that he had taken the offer seriously.
The main reason he had been hesitant about joining was he feared that others would look at him differently because of it. However, now that he is on the team, he wishes that he would have joined earlier.
"Like, I mean, I've heard people say things at the games when they see me cheer," Kraft said. "It doesn't really bother me, and I feel like all that matters is, the people that know me, know that I'm doing what I want to do."
Kraft has been doing gymnastics at PHS since his freshman year, so he has been able to use his tumbling experience to his advantage. But a big difference between cheer and gymnastics is that gymnasts tumble on a spring floor, whereas cheerleaders are on a dead mat, and, like its name, a dead mat provides less of a bounce, making it harder on the shins.
Despite having done gymnastics for so long, Kraft likes having a new direction in his life with cheer, even though he will be starting gymnastics the week after the cheer season ends.
"So the fact that I'm on cheer now, it's like a fresh perspective, almost," Kraft said. "I guess I enjoy coming to cheer practice more than I enjoy coming to gymnastics because it's just something different. In gymnastics, I feel like it's the same thing every time."
Kraft is not alone in his enjoyment of practice as a newly-formed coed team. Junior Nadia Kastenmeier, in her third year of cheer, and senior Jessica Les, in her fourth year, both feel that there is a different environment at practice now.
"I feel like we're a lot more relaxed because [the boys are] very laid back, even though they're hard workers," Les said. "So, I feel like it's less of a stressful environment than it was before."
In addition to the tumbling skills brought by the boys, they have proved to be an asset with stunting, as well.
The team is now doing coed stunts for the first time, which includes One Man stunts. In this coed stunt, a boy is typically the base, and he lifts the flyer up, with or without the assistance of an additional backspot, which requires a lot of trust between the base and the flyer.
This is a big difference from their normal stunts, which consist of four cheerleaders: two bases, one flyer and one backspot.
"It brings more relief to the girls, kind of, because having two totally different body types, it's not easier to stunt, but it's definitely a different feeling," Kastenmeier said. "[The boys] definitely bring a lot to the strength and tumbling portion."
Les switched positions this year; she was a base for her first three years of PHS Cheer, and is now a flyer, which is why she believes one of the team's biggest strengths to be its flexibility.
"I was a little hesitant at first because it was new, and sometimes new things [can] be scary," Les said. "But once I started taking little steps at a time, and improving, I felt more confident in myself, and my teammates have really shown that they're there to support me and help me out. It made me want to improve even more for them and myself, so I like it a lot now."
One of the inevitable pressures that come with the competition season is the limited number of spots available on the mat, which is 13 this year.
Kastenmeier, who is an alternate, said she feels some added pressures because of the uncertainty that comes with her situation; there is always the potential for COVID-19 outbreaks or sudden injuries, so she needs to be ready to step in at any moment, should the need arise.
"I think for the girls, at least, it's a lot of pressure knowing that you have five guys coming on the team who are a lot stronger than us, and have a lot of tumbling coming from gymnastics," Kastenmeier said. "It was definitely a change for us because we're like, 'Oh, what if our spot gets taken on the mat because a guy comes in?'"
But she feels that each of the 13 spots on the mat are well-deserved, and every cheerleader works hard, no matter if they will be competing or not. Additionally, she feels that, now that the boys have joined the team, everyone enjoys it much more.
"I think we all consider ourselves as family," Kastenmeier said. "We all really respect each other. Even though there's a lot of pressure during practice, I feel like at the end of the day, we all love each other, and any criticism, or anything, we all know it comes from a place of love."
As they will be competing in the Coed Team Division for the first time, the team will be facing new competitors, including Buffalo Grove, Elk Grove, Palatine, Barrington and Hoffman Estates.
Despite this, Norwell does not feel that there are any added pressures that come with competing in a new division because of how little expectations there are for them as a team.
"I mean, competition comes with pressure because everybody wants to win and do well, but, it is also a bit pressure relieving to be in a division where we haven't been," Norwell said. "So, it's kind of up to us to pave the way."
The first showcasing of their new routine for this year's season will be at the Rolling Meadows Round Up on Dec. 18.
This year, at competitions, per IHSA guidelines, athletes will also have the ability to remove their masks while performing their routines.
Kastenmeier is excited for this change from the previous season because of the different atmosphere that competing in front of a live audience brings; their competition routine was pre-recorded in an empty gym due to COVID-19 restrictions last season.
"I'm not on the mat with them, but speaking as a former cheerleader, crowd participation is huge," Norwell said. "If you're doing a routine to a blank gymnasium, it seems kind of cheesy because it's like, if you're doing a chant to a crowd, or if you're doing a facial to an empty gym, it's just not as exciting because you don't have that feedback to what you're doing. So, I mean, I think it's more hype, for sure."
Aside from all things competition, Norwell hopes that the precedent that was set by this year's team will change the attitude around the topic of cheer and boys participating in it, which is typically viewed as a taboo topic.
"It's rare to see a lot of guys doing cheerleading," Kastenmeier said. "So I think it's really inspirational that the guys decided to join our cheer team. It was a risk for them because in today's society, cheer's kind of frowned upon for guys, and I guess them being on the team is really changing the atmosphere of the school, as people, like even in the stands at games and stuff, they're like, 'Wow, there's actually guys who enjoy doing this. They're not being forced to do this, but they actually enjoy it.' So, I think it brings a new perspective for our school."