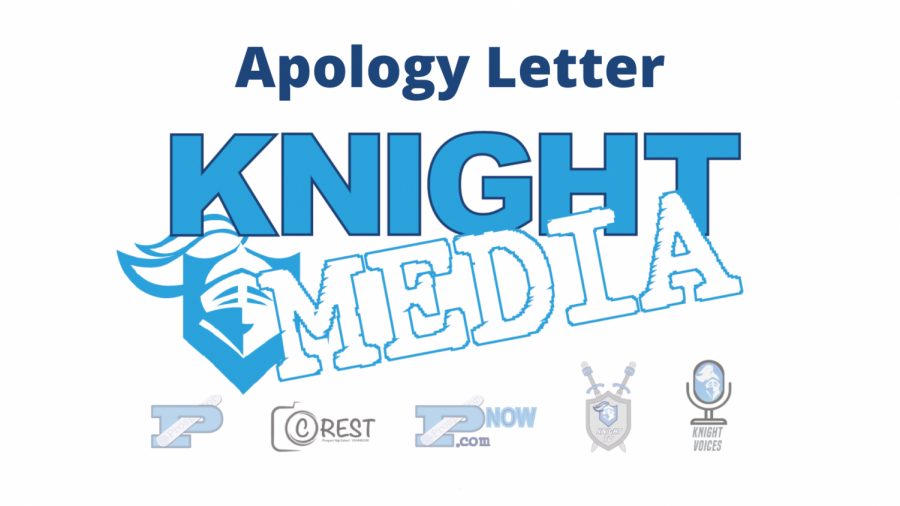 KnightMedia Apologizes to Mr. Cleveland
December 16, 2021
Knight Media works to responsibly publish accurate and fair stories that act to inform the Prospect community and ultimately serve as the free voice of Prospect High School. We understand the responsibility and power of that role, which is why it caused us great grief when we were informed that a photograph attached to our staff editorial, published on Dec. 10 in Issue 3 of The Prospector, brought pain to the life of one of our school's most beloved staff members, Edward Cleveland.
We thank administrators and Mr. Cleveland for being transparent about their response to the image used and informing us of an area where we can improve in future issues moving forward. Retrospectively, we understand that attaching Cleveland's image to a critical story was harmful to him as an individual in ways we did not foresee. While designing the page, we did not intend for him to be seen as the "face of the problem," especially when there is already a great problem in misrepresenting people of color in mass media. Mr. Cleveland deserves to feel safe, understood, and respected in our building, and this experience has caused us to reflect and consider the power a single photo in context has more thoroughly. We hope this apology can show that the effort he puts in to protect students is appreciated by us, and his identity is important to us.
We also thank the administration for suggesting helpful changes to our visual editing process, which we now see was flawed. In the future, we plan to not use action photos (especially those where individuals are recognizable) for staff editorials and to better our communication with our visuals team regarding the tone and angle of the story they are taking a photo for.
Given this experience, moving forward we will work even harder to ensure this does not happen again. While no poor intentions motivated this situation, we know that that does not decrease the heartache it caused, and for that, we apologize with the utmost sincerity and respect for the individual unfairly affected by our actions.