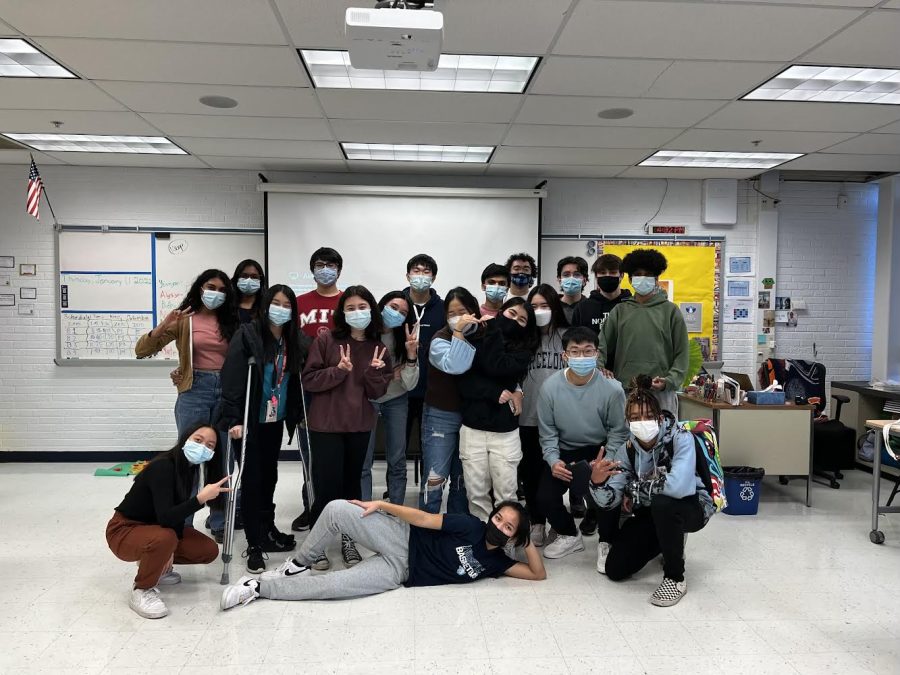 Asian Culture Club Provides Community
January 22, 2022
For the celebration of Lunar New Year, a holiday that celebrates the beginning of a new year for countries that follow the lunar calendar, students of the Chicago North Chinese School (CNCS) in Des Plaines would participate in a celebration instead of going to class that Sunday.
Junior Aiko Tai, a former student of the CNCS, remembers this once-a-year festivity taking place in a big meeting room with a stage on one end, where family and friends would watch each class perform on stage. 
This celebration also included a potluck, and everyone brought a dish that they were known for or wanted others to try. Some of Tai's favorite foods to try were the Chinese baked pastries, as well as foods that fused both Chinese and American cuisines, like fried chicken. 
She was a part of the Chinese Yo-Yo program at the CNCS, so, every year, she did a Chinese New Year performance to showcase her skills. In addition to the various types of food served at the potluck, her Chinese Yo-Yo performance was one of her favorite parts of the celebration. 
Tai was able to gain a deeper knowledge and understanding of her Chinese heritage through experiences like her Chinese school's Lunar New Year celebration, which is one of the reasons she decided to create an Asian Culture Club (ACC) at Prospect. 
"Growing up, one of the ways that I learned about my culture was by learning all the types of foods that we ate," Tai said. "And it's definitely a very universal experience for people to learn about their culture through food because it's something that can often be passed on through family and through friends. You learn a lot more about [your] culture, especially when you're able to meet people through food and make food together."
Tai always had the idea to create a club that met as a friend group of Asians, but it wasn't until after she saw clubs at Prospect like Latinos Unidos, Sugar and Spice and Ebony club that she felt inspired to start an Asian version.
She presented the idea to her friend, senior Justin Baek, and they then asked their friends junior Eunice Park, junior Thomas Kim and junior Julia Pandaleon to help them with social media, finance and graphic design for the club. While ACC is mainly a student-led club, it is sponsored by math teacher Dominique Hernandez, who provides the medium between students and the administration. 
Tai's purpose for this club was to provide representation for Asians at PHS, as she felt that both her and friends didn't know the grades below them very well because of remote learning during the past two school years.
"It's kind of natural for Asians to make friends with each other and form smaller communities," Tai said. "Because of the pandemic, we felt like we really missed out on that with the younger generation, so we wanted to do something to bridge that gap; [to] make it not so awkward for us to talk to the underclassmen and vice versa." 
Another motivator to start this club was the rise in Asian hate crimes over the COVID-19 pandemic. 
"I think it's very good to have representation, especially at a predominantly white school," Tai said. "It's good to have representation from all the different minority groups and make sure that we feel like we're seen, and we exist and we have a place to celebrate our cultures."
The ACC was able to find a place to begin this celebration of culture at their first meeting on Jan. 12, where Tai was positively surprised with the number of students that attended. 
"I was definitely nervous at the beginning, but as we warmed up to each other, met each other, talked and got to know each other," Tai said, "it felt like a really big group of friends. Everyone was talking, there was nobody quietly sitting or not participating in the conversation, which is really nice."
For now, they plan on holding meetings every other week, which will focus on getting to know each other better and providing a safe space to connect over Asian culture. 
"It's a great place to come and meet new people if you're interested in trying new foods [and] participating in traditions and holidays," Tai said. "In general, it's just providing a safe space, so if you want to find a group of people who are really accepting and want to share Asian culture together, I think that's what [you] should come to the club for."
And as for larger events, the ACC is planning on decorating the commons to celebrate the Lunar New Year, which will be on Feb. 1 this year. This setup will be similar to the ofrenda made in the commons for Día de los Muertos during the first week of Nov. 
Although they are unable to arrange as many food-related events as they would like because of COVID-19, one of Tai's biggest goals for the club is to share Asian culture through the use of food. 
Tai is also excited to see how much the club will grow.
"I just hope that people are aware that the club exists," Tai said. "I think it's kind of sad when people can go to this school for four years and they say things like, 'Oh, I had no idea we had this club or this program.' I think being able to celebrate our cultures and being able to show others within the school who might not be aware of other cultures as much could be special."