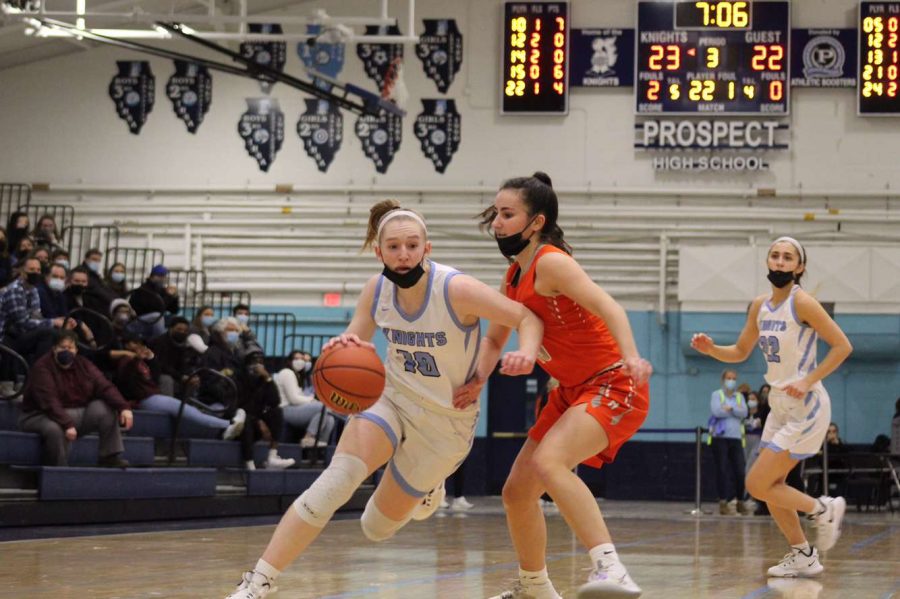 Tied in the East
January 23, 2022
Jean Walker fieldhouse was rocking on Friday night. The Knights went up against the Hersey Huskies in a fast-paced high scoring game, all for first place in the east. Unfortunately for the Knights, Hersey was able to hold on in the final minutes of the game for a 47-44 victory. 
The Knights came into this game with one mindset that they have used all season long. "We are going to bring the energy," said senior Andie Will. In the first half, that's exactly what Prospect executed finding themselves up 23-22 what the halftime buzzer rang.
Both teams struggled mightily with ball control with a combined 8 turnovers in just the first half alone. The Huskies, although down, had a total of 25 rebounds (15 offensive) against Prospects total of 10. Even with such a huge rebound advantage, the shots weren't landing for the huskies, going 8 of 26 on-field goal attempts. The tides however did shift in the second half. 
Hersey managed to outscore Prospect 25-21 the rest of the night, after taking huge control in the third quarter. Junior Katy Eidle led the Huskies with 23 points, as the Knights could just not find a way to slow her down. Junior Val Allen was able to collect 10 rebounds of the team's total of 35 as their height advantage provided a solid day at the boards. 
Seniors Andie Will and Macy Zei led the Knights with 12 points, as both ladies were knocking down their shots. Senior Summer Srodulski trailed closely behind with 8 points using her size to create some strong in the paint shots. 
Prospect moves to 17-5 (6-1 in the East) now tied for first with 20-4 Hersey. The Knights look to rebound back against Elk Grove on Tuesday in another MSL East showdown.