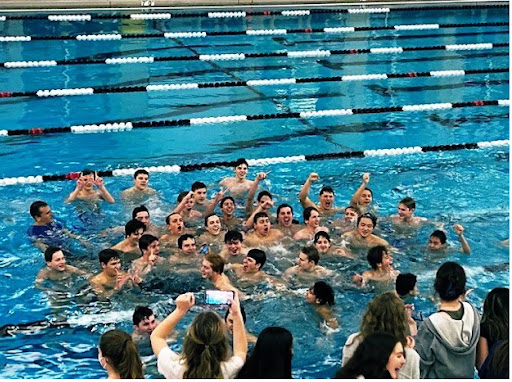 Boys' Swim Wins MSL East
On Friday Jan. 28 the boys' swim team at Prospect won the MSL East for the first time since 2016 against Rolling Meadows 113-69. The knights have a good team this year behind Senior Tim Hayes who broke the school record for the 100 breaststroke which was 59.00 and Hayes got 58.02. 
Hayes also holds the 200 IM record, 100 backstroke, 100 breaststrokes, and is part of the 200-medley relay.
"Hayes has the opportunity to break two more records by the time the season is over. Which is unheard of for a swimmer to be that dynamic," Head Coach Alfonso Lopez said.
Hayes wasn't the only reason the Knights won, Andrew Tonkovic had a great night winning the 500-yard freestyle with a time of 4:56.95 and was part of the 400-yard free relay Winn team too. 
"We knew we were tapping on the door since we lost to BG last by two points to the East last year", Lopez said. 
The Knights next meet is conference on Feb.19 at Elk Grove. 
"This group has big aspirations," Lopez said. "We are excited for the state meet to push thru relays and individuals".