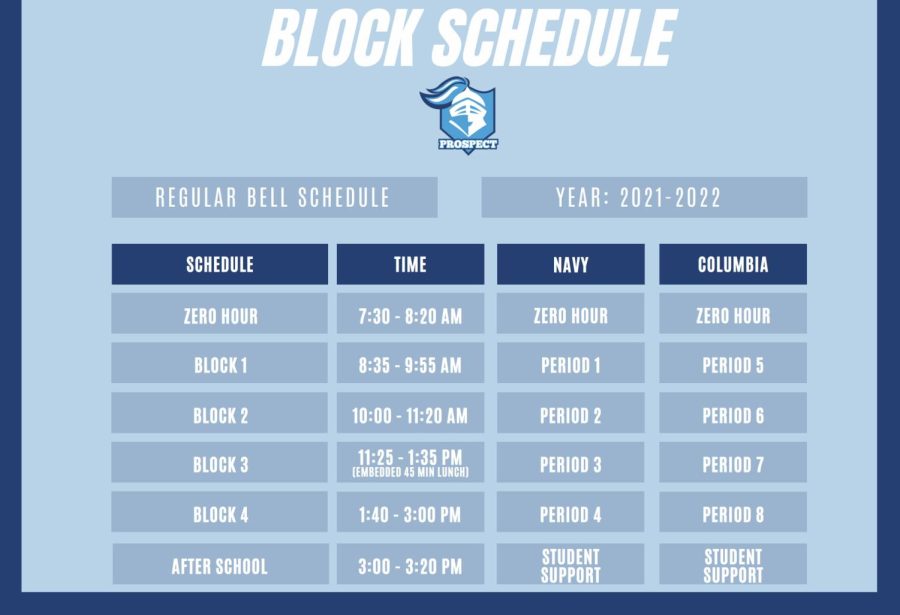 Schedule Vote Returns in Favor of Block
February 10, 2022
Prospect's teachers voted on Jan. 25-27 concerning whether Prospect would continue with the A/B block schedule format of classes for the coming school year or revert back to the traditional eight-period schedule. 
The vote passed in favor of continuing the block schedule, with votes reaching the 60% threshold needed to pass the block schedule decision, which, according to Teaching and Learning Facilitator Katie Page, is a requirement stipulated in the teachers' contract.
The block schedule will therefore continue into next school year, Page says, with some possibility for tweaks to the schedule based on concerns raised by staff and students.
Because last year's decision to return to the traditional schedule (with Prospect being the only school in the district to vote this way) was overwritten due to COVID-19 limitations, teachers were given the opportunity to vote again this year.
Prospect was the only school in the district to vote on the subject this school year, as the rest of District 214 — Prospect included — will vote once more next school year for presumably the final time with the expiration of the two-year block schedule pilot begun this school year. Until then, Page says, Prospect will continue with its current schedule.