Gianfrancesco Soars to Third at State Gymnastics Meet
March 2, 2022
As a sophomore, this was Emily Gianfrancesco's second year competing on the Prospect girls' gymnastics team. With only one year of highschool gymnastics under her belt, she didn't let that affect her goals, ambitions, or performances. 
On Saturday, February 9th, Prospect competed in the Hoffman Estates sectionals for a chance to advance to state. Gianfrancesco was the only one from the team to make it, and not only did she automatically qualify for state in vault, but she qualified for an at-large spot to compete all-around at state. 
The week in between sectionals and state, she continued perfecting her routine, improving her performance, and working with her coaches. 
"I put some of my upgraded skills in and I did [perform the skills] at state and I made them, which I was super excited about." Gianfrancesco said. 
The state meet was hosted at Palatine high school this year, which was unique because it is very close to Mount Prospect. Many of Gianfrancesco's teammates were able to attend the meet and cheer her on.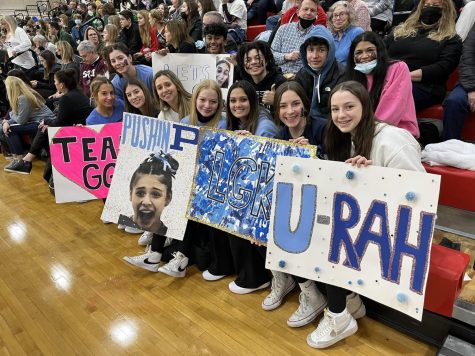 "It made me feel a lot more comfortable and made me [compete better] because I knew [my teammates] were going to come support," Gianfrancesco said. "They just cheered me on and it wouldn't have been the same if they weren't there."
Gianfrancesco competed all-around at the state meet, which means she competes in beam, vault, floor, and bars. Vault has been her highest scoring event all season. That was no different at the state meet on February 18th. Gianfrancesco scored 9.6750 on vault to secure a third place spot in the entire state. Not only did she place third in vault, but she also placed 8th for all-around. 
"[Placing at state] was just such a cool experience; the Daily Herald guy came up and interviewed me, they were lining us up to [stand] on the podium, and [the IHSA gymnastics officials] were giving us flowers and stuff." Gianfrancesco said. "That was just such a cool experience because all my teammates were so proud of me and my parents were so proud of me too."