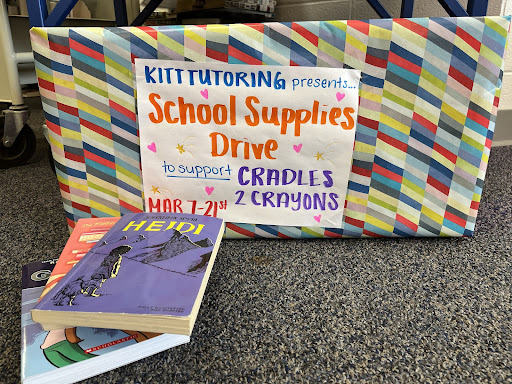 Supply drive supports local youth with school supplies
March 14, 2022
Since her sophomore year, Knights Inspired to Teach President and current senior Delaney Nold aspired to incorporate service into the KITT program. Service has always been a large part of her life and something she has prioritized throughout highschool. Finally, the opportunity to mesh these two initiatives — KITT and service — came to fruition in a partnership with the organization Cradles to Crayons that started March 1.
"It is a really great organization," Nold said. "I think it is really going to bond our tutors together, with all of us [tutors] marketing it and telling others around the school about it … We've already had a lot of donations and we are really excited to get more to continue to support this organization."
Cradles to Crayons is a national nonprofit organization dedicated to providing needed items to children in poverty. They have branches all over the country, with local drop boxes in which all donations collected during the drive will go to. The drive runs March 1 to March 15 and aims to collect new or gently used books and school supplies. Participants are encouraged to bring donations to supply boxes located in the KITT Tutoring Center, the Hub, the KLC and the Commons at Prospect.
With this long-term service goal in mind, the idea for the drive was off to the races. Nold thought it was a great idea to do a drive about books and school supplies because it seemed perfectly "tutor-esque."
"Obviously we wanted something that supported our same idea of giving back," Nold said. "I think that is a lot of what tutoring means, is just helping out other people, students, peers, cand those who are less fortunate than you are."
Additional deciding factors included finding a somewhat local organization to support. In the end, KITT leadership decided that Cradles to Crayons was the perfect fit to fit the goals of KITT as well as give back locally, according to KITT secretary Sara Maggio.
"I'd say we [KITT tutors] have a set of values: leadership, communication, integrity," Maggio said. "One thing we really like to do is give back, whether that be at Prospect through tutoring or through the larger community with something like this school supplies drive."
Both Nold and Maggio urge Prospect students to get involved with this great cause before spring break. As it falls into a bit of a "giving lull," being after the holidays and all, they both think now is as good of a time as any to give back.
"It is important to realize that we are really lucky living where we are and being in a school with so many resources," Maggio said. "A lot of students don't have those opportunities — especially with the financial [burdens] of the pandemic — so it is very important that every kid has access to the educational tools they need to succeed in the future."