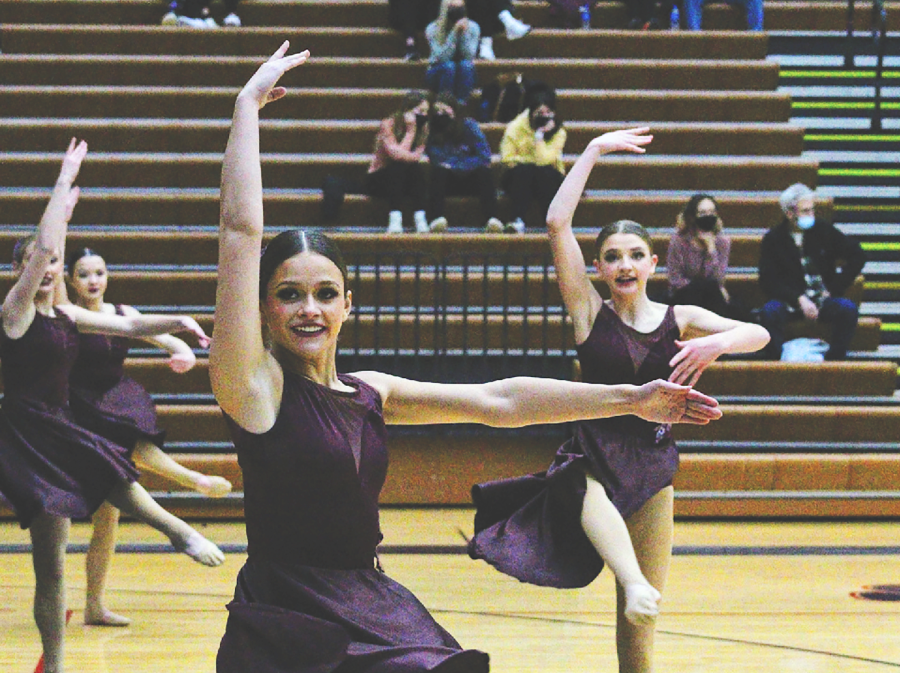 Dance Team Makes Memories During State Run
February 4, 2022
Before stepping onto the stage at sectionals on Jan. 16, freshman dancer Lucy Neuman found herself shaking, reminding herself that this was the moment that the competitive dance team had worked for all season. Despite Neuman's nerves, her coaches gave them words of encouragement and told the team not to overthink things while dancing. 
"I think that's what really made me want to keep pushing because I was like, 'I'm doing this for [my team]; they're my family,'" Neuman said. 
After their performance was over, the team sat in a circle while the competitors' ranks were announced. For Neuman, the moment that followed was surreal. As it was announced that they had qualified to compete at state, the girls jumped up, screaming and hugging each other in a swarm of overwhelming excitement. 
"I've never seen our team be that happy before," Neuman said. "… Half of us [were] crying … All of our hard work finally paid off."
After placing sixth in sectionals on Jan. 16 at Deerfield High School, Prospect secured their spot at the state meet on Jan. 28 in Bloomington since the top six teams advance. The team ended up placing 28th at state. 
"This is the experience of a lifetime, going to state [and] walking out onto that … floor," head coach Katina Frericks said on Jan. 26 before leaving for state. "[The audience is] all on the sides of you … and huge lights are on you … It's going to be a great, great weekend for us."
During Frericks's time on her competitive dance team at Crystal Lake High School, she remembers feeling the same stress and excitement when she competed at state and later nationals. 
"It's so rewarding when the music starts the minute you go through [the performance]," Frericks said. 
While Neuman was excited to compete at state, what she was looking forward to most was the trip to Bloomington and the ability to make memories during the overnight trip with her teammates. 
That team bonding is what made this year stand out, according to junior Allie Quirk, because the pandemic forced all their competitions and practices last year to be virtual and therefore limited team bonding. This year, the team made a strong effort to build in-person connections through things like pasta parties and dinners together.
This team building has set the tone for the year and has helped them improve things like their synchronization, which Quirk said they were challenged by this season. In the end, she is proud of the work that the team has put in and is happy that they were able to perform together one last time at state.
"My mindset is just to go in [with] 110% and just make memories," Neuman said before they left for Bloomington. "That's what I want to do [at state]."