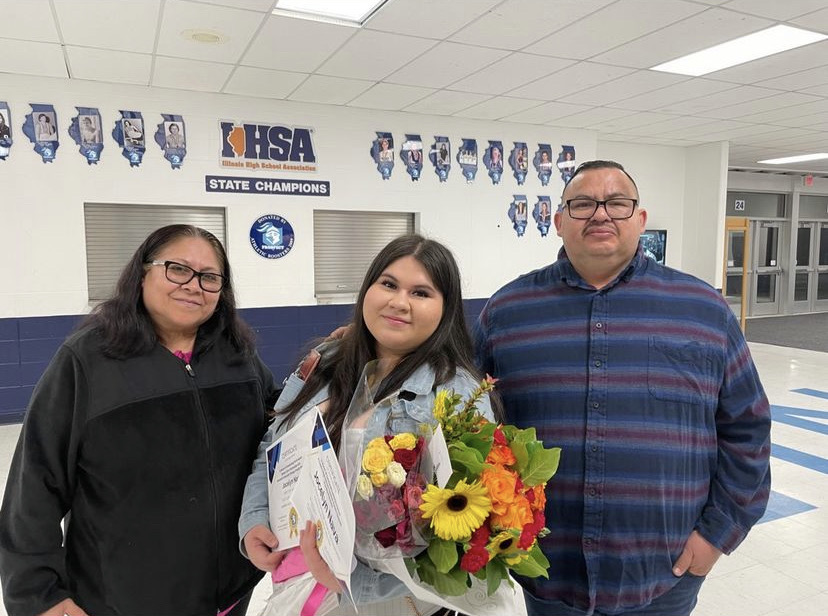 Senior strives for success, full ride scholarship
March 28, 2022
After applying for a scholarship to Roosevelt University, senior Jocelyn Nava awaited the results of her pending application. All the materials were due on Feb. 22, 2022 — or the date equivalent to 222222 — which is an angel number. Everywhere Nava went, the number 222222 seemingly popped up, something she took as a good sign. 
Finally, when she was called out of Creative Writing a few days later, Nava had a suspicion: she had won a full ride scholarship to Roosevelt. It was true.
Nava is the youngest sibling in her family and is slated to be the first one to graduate from high school. When she started as a freshman at Prospect, it was her goal to do well in school, graduate and go to college. She especially put an emphasis on studying and reaching out for help to accomplish this goal. Nava says she didn't just do it for herself, but also for her entire family. 
When Nava got home that day, she was overcome with happy tears when telling her parents. 
"When I started telling my family I started crying because it was like, 'Oh my god,' Nava said. "Especially telling my dad and seeing the smile on my parent's face [was really special]."
Nava also hopes that her receiving this scholarship will inspire her younger nieces and nephews — most of whom are elementary to middle school aged — to follow in her footsteps. 
"I'm hoping they realize that even when life is hard sometimes that they can keep on going and that it will go away," Nava said.
The following Monday, Nava received the news she was accepted into the nursing program in addition to receiving the scholarship. All of her goals had come to fruition. 
Nava's passion for nursing was discovered through the CNA program at Prospect, an experience which she is grateful for. Instances of helping people "filled [her] chest with happiness" and truly cemented the fact that nursing was the perfect channel for Nava, who always wanted to help people in her future.
"So many people have helped me, so going into a career where I can help people and be there for them is just so … rewarding," Nava said.