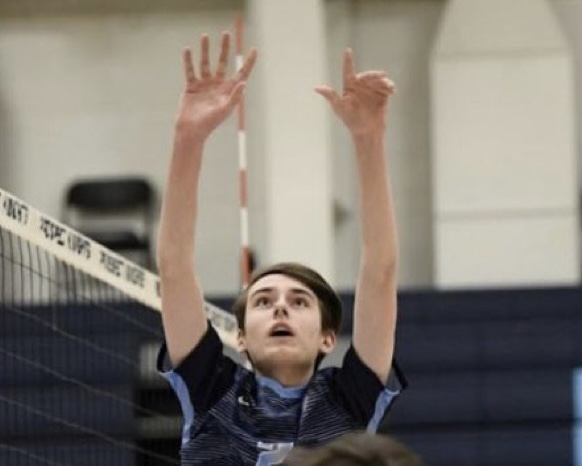 Opportunity of a lifetime
May 4, 2022
Freshman Ryan Cook (15) remembers in fifth grade getting shipped off with his eager sixth grade sister, Ali Cook, to a volleyball camp at St. Paul on a hot day in July of 2016. Ryan's mom and sister insisted Ryan go, so his sister "wouldn't have to talk to anyone." 
He didn't think he would love it as much as he did, but when he stepped on the court for the first time, it felt like home.From that day on, Cook knew volleyball would become something great for him.
Cook is a setter for varsity volleyball. It's one of his many achievements in his volleyball career along with making the Vernon Hills varsity tournament All-Tourney Team. From the time Cook first started in fifth grade, he was already playing with eighth graders. But he didn't get to that point by himself, his sister has always been an inspiration to him. 
"I just looked up to her," Cook said. 
Ali said going to the different volleyball camps were opportunities to play a sport that the siblings  continued to keep up with. 
Senior Jonathan Stavnes went to middle school with Cook at St. Paul Lutheran school. Stavnes has known Cook since he first played volleyball in fifth grade and vouched for Cook's growth and abilities. 
"I don't think I've seen a cleaner ball set by a freshman, ever," Stavnes said.
 Cook has already made a mark on the volleyball world, and it's the people involved that really are blown away by his talent. 
Boys' volleyball head coach Mike Riedy, boys' has only had one other freshman on the varsity level before. As soon as Cook walked in the gym, Riedy was confident that he was going to be on varsity. The difference between Cook and the previous freshman on varsity, Nate Chung, is that Cook starts. 
"[Ryan is] best I've seen in a long time," Riedy said. "Once I saw him set, it was an easy decision." 
Even though Cook's talent is through the roof, he still is a freshman. 
The team dynamic Riedy explained is "just how'd you'd imagine the dynamic to be like, he's the team pet they make sure he's well fed and groomed." 
While Riedy was being sarcastic, Stavnes agrees with him.
 "He's the team baby, we have to protect him at all costs," Stavnes said.
Cook admitted adjusting to the varsity level has been a challenge, but one he's willing to take on. 
"They've played longer than me and know the game a little bit better than me, so I just have to kind of figure things out and learn," Cook said.
Though the varsity level is a challenge, Cook sets high goals for himself. By the time he's an upperclassman he hopes  to break records. 
One specific record Cook spoke most highly about  was beating the record for most assists. The record for most assists in a season is 1000 assists, held by Adam Zuckerman in  2002. 
Along with breaking a record, Cook wants to win conference at least once in his years at Prospect.
 Cook believes his goals are far fetched, but his peers say otherwise. 
"He's going to be a four-year starter," Stavnes said."[I'm] hoping he breaks one of the records — he's got a good shot at it." 
Cook still has much to learn and accomplish for the future. 
"I want to work on leadership and take lead as the setter," Cook said.
With Cook's mindset and peer support, his teammates and coach think he has what it takes.
"This kid's the real deal," Riedy said.