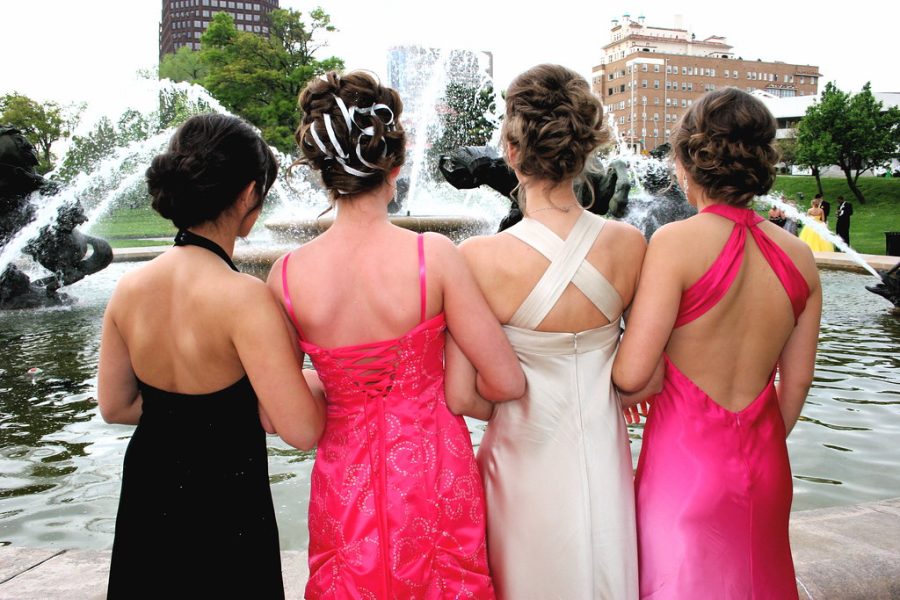 Prom proves expensive
May 5, 2022
Junior Nadia Kastenmeier visited three different stores in search of a prom dress before eventually buying one from Saks Fifth Avenue. Overwhelmed by the large selection of dresses at the various stores she shopped at, it was a stressful experience for her.
She bought her dress on sale from Saks Fifth Avenue for $285, and with tax about $300, however, the price before it went on sale was $500. Additionally, to shorten the length of her dress, she paid $90. 
While she will be wearing jewelry she already owns and doing her own hair and makeup, Kastenmeier also spent $70 on heels and $65 for the ticket, which equals a grand total of about $525 spent. 
As the countdown to May 7, the day of prom, becomes smaller by the day, the amount of money spent by students in preparation for the special night continues to increase. 
Even though Kastenmeier didn't have a set budget for her dress, she didn't plan on spending too much, as she is only a junior and will have another prom next year. Additionally, she feels that the total amount she spent is much smaller in comparison to others she knows who have spent $400 or more on their dresses alone. 
"I was definitely a little bit shocked that [$285] was the on sale price already," Kastenmeier said. "[But] I wasn't too worried about that cost because I knew I was definitely getting a deal with it." 
Junior Alex Martorelli's dress cost $350 from PROMBAY, and she spent an additional $65 on alterations. Her plan was to not spend more than $300 on her dress, although she didn't feel bad about how much she ended up paying. Martorelli also plans to spend about $60 on nails. 
"I don't want to be spending all this money," Martorelli said, "but, knowing me, I'm probably going to be spending a lot of money, so I kind of expected it."
Amethyst Skye Salon hairdresser Cari Engelhardt Sulla notices the business of the prom season first hand, as the salon she works at experiences an uptick in services during the prom months of April and May. People not only come in for services on the day of the event, but they also come in earlier for services like haircuts, highlights, balayage, a lash lift or an eyebrow wax. 
Haircuts at Amethyst Skye cost $60, and hair coloring can range anywhere from $75 to $375 or more. A blowout, a common hair service, is $35, while a special occasion hairstyle would be $85. 
And for facial services, a lash lift costs $75, with an extra $10 for a tint to darken the lashes. 
Due to the increased business, Engelhardt Sulla, who normally only works on Tuesdays, Wednesdays, Thursdays and Saturdays, said she increased her schedule to Fridays as well in an effort to get more prom clients. 
"It feels good knowing that we're really really busy," Engelhardt Sulla said. "It's a lot of fun being able to be a small part of people's prom day."
In preparation for her prom day, Kastenmeier decided to buy her dress from Saks Fifth Avenue because the other stores she looked at were either too expensive or had already been too picked over by other shoppers. She also attributed her desire to buy her dress from a store that people don't normally shop at for prom dresses to the unlikely chance that she would see someone else wearing the same dress as her. 
"There's this culture where you can't have the same dress as someone else," Kastenmeier said. "So I figured that if I went somewhere that no one else would go, I might have a better chance [of] finding a dress I liked, and one that was also different from other people's."
Her dress has an elegant gradient of a dark green to black, and the top is tighter, while the bottom flares out, and she loves the way it fits her. 
"Since it is prom season, there's so many people there, and you need to find a dress you like that's in your budget," Kastenmeier said, "and something that just makes you feel good about yourself, which I think was a little bit harder to do. But I actually liked the experience overall."
Martorelli also feels the same about how much she spent on her dress. After trying on six other dresses, she ended up going back to the dress she first tried on. 
"I've always dreamed of prom since I was younger, and seeing myself doing it now, it makes my little self happy," Martorelli said. "So I want to make sure that I'm happy that day." 
Engelhardt Sulla feels that the self-care aspects of prom, like getting hair and makeup done, are very important, as they help to ease the pressure of wondering whether pictures will look good or not. 
"If you're able to set aside some money to be able to have your hair done, or at least your makeup done," Engelhardt Sulla said, "then I think that it really just elevates the experience more than anything."
While Kastenmeier has yet to find out whether the total price she spent on prom will be worth it, similar to Martorelli, she doesn't feel any regrets on how much she spent. 
"I feel like it's just kind of a coming of age thing that most girls want to experience," Kastenmeier said. "They want to have that one dress that they just feel special in. It depends on the night of prom, how you feel, then you'll know if it's worth it or not. Right now I can't really tell."  
One thing Kastenmeier is sure of, however, is that prom does not need to cost a lot of money. 
"I think the whole point of prom is for you to have a good time, which sadly a lot of girls do spend a lot of money [on] because they feel the pressure of having the perfect dress, the perfect shoes and all of the accessories," Kastenmeier said. "But I think it depends more on how your night goes and how you make it yourself, rather than having the right dress."