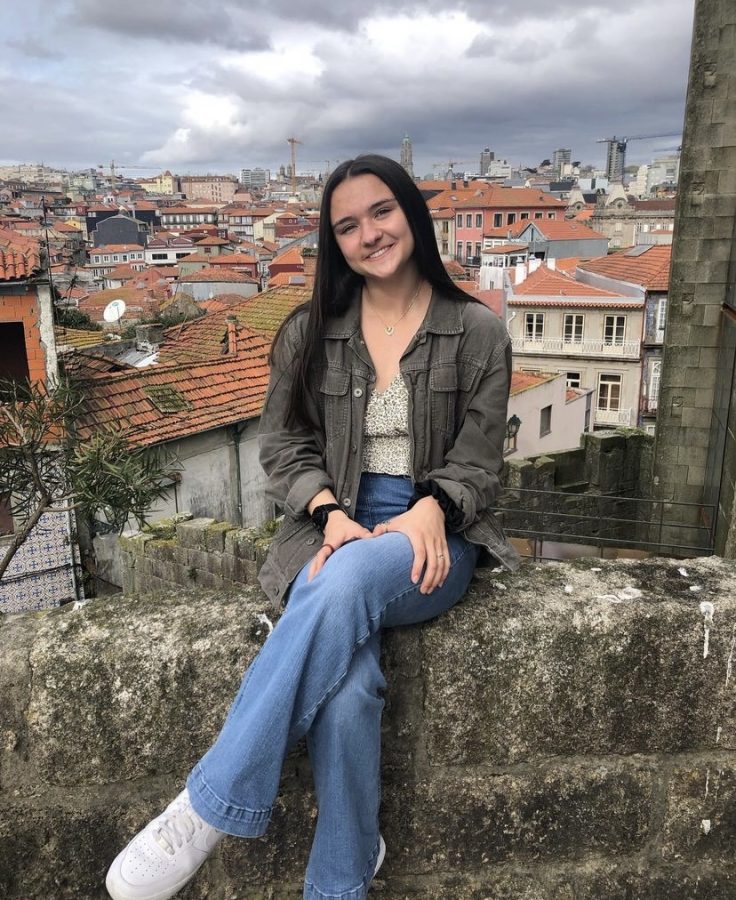 Studying abroad broadens perspective
May 19, 2022
On a 40 minute train ride over the Øresund Bridge, the longest combined road and rail bridge in Europe, 2021 Prospect grad Sara Michelini visited Malmö, a coastal city in the southern part of Sweden that she had just heard about for the first time the night before. 
When Michelini and her friend arrived in the city in late February, they were given a tour by a friend of the friend that Michelini had traveled with. They had a day filled with art exhibits and windmills, they visited an aquarium and they even went shopping at one of the best thrift stores in Sweden. 
Michelini, who recently finished her first year of a two-year study abroad program with Saint Louis University Madrid (SLU-Madrid), took this mini trip to Malmö on a break from school. She is one of many students wishing to enhance and broaden their education by either studying or attending a university outside of the United States.
Michelini attended Prospect her freshman year, but moved to England during her sophomore year for her dad's job. And then two years later, she moved back to the US the summer before her senior year.
Her plan for college was to go into nursing, so when her mom introduced her to a  nursing program offered by SLU-Madrid during high school, because she enjoyed her time living in Europe and wanted to advance her Spanish, she decided to apply to it.    
So far, she has loved the opportunity to live in Madrid, as it's a big city and there is always something to do. 
"It's been really amazing," Michelini said. "I would definitely recommend studying abroad to anyone who can, [or who] has the resources. It's just been crazy moving to a city I've never been to, [and] a country where I don't know anyone, but I definitely think I've learned a lot and changed a lot since I've been here."
Aside from all of the memories she has made while studying abroad, Michelini has also gained a new empathy for others. 
During her first semester, after being hospitalized for tonsillitis, she wasn't able to speak for the first few days of her stay. Wanting to understand what was going on but not fluently speaking Spanish, Michelini would ask the nurses to try and explain her condition to her in the easiest way possible.
However, because the nurses knew she was American, when she would ask them questions about the medicines she was being given and when she would be able to leave, they would tell her "no te preocupes", or "don't worry", which was not the response she was looking for. 
This experience helped her to understand what it's like for people when they don't speak someone else's language. 
"I think it's just really frustrating when people assume that you're stupid or that you're not going to understand something just because you don't fluently speak the language," Michelini said. 
French teacher Ashley Brown, who studied abroad in Paris with DePaul University for her entire junior year and later moved to Chambéry, a small town in the southeastern part of France, near Italy and Switzerland, to teach English, had similar struggles with communicating in another language. 
While visiting the pharmacy in Paris on her study abroad when she was sick, she kept asking for a "médecin", which sounds like the word medicine in English, but actually means "doctor" in French. When talking to her host family later that day, Brown eventually figured out her mistake in her vocabulary, and that the correct word for medicine in French is actually "médicament". 
Despite the annoyance of an occasional language stumble, Brown appreciates such experiences of immersing herself in the French language every day because they helped her to more quickly pick up on it. 
"In the beginning, it can be difficult because you have to get to know a new place and new people, and just being in a different language all day, every day can be tiring," Brown said. "But after the initial culture shock, by the end of the year, I didn't want to leave."
As far as living in another country, it is also beneficial to experience how different groups of people live their lives. 
Michelini first arrived in Madrid on a Sunday and was in search of a SIM card. Although, to her surprise, all of the shops were closed on Sundays, including those with SIM cards, so, looking at a screenshot of a map on her phone, she attempted to find her way around and failed miserably. 
"I think it's just really interesting to see things like that," Michelini said, "[which] seem so weird to me, living in the US, but it's just normal here. Everyone's like, 'Oh yeah, you're not gonna find a store on Sunday.'"
Senior Greta Sporcich, who will be double majoring in ancient history and film studies at the University of St Andrews in Scotland this fall, also got to experience how different cultures live. 
She has always been an Anglophile, or someone who loves England, so, during her junior year, when she saw a college meeting on Zoom for international schools, she became interested in attending a university in the UK. 
"Obviously I could start over at a college here, but I just thought it was such an interesting opportunity, and the way that I actually found it, it just kind of seemed like fate," Sporcich said.
She visited Scotland for the first time over her senior year spring break, staying in Edinburgh, a city that is about an hour south of St Andrews. When she drove to the university, she was taken aback by the quietness of the town and how there were so many places to find peace and be alone, without background noise.  
While the tuition to St Andrews is about the same as it would be for a state university in Illinois, the opportunity to more easily travel throughout Europe, as well as to gain different perspectives is one that could not be duplicated elsewhere for Sporcich. 
She feels that studying abroad is important for those who have the resources, as many people in the US are "living in a bubble", and, by meeting people from other countries and seeing how they view America, they can broaden their view of the world. 
Brown shares this view from her time spent abroad. 
"I'm American, and I have ancestors from different places, but I didn't see my family as having a really strong culture," Brown said. "But when I went to France, I looked back at what it was to be American, and saw that, actually, we do have a culture. It's American culture, …and it's unique, just like French culture."
Michelini, Brown and Sporcich all agree that studying abroad has many benefits that range from not only helping to better learn a language but also helping to better understand the people of a different country when placed into new circumstances. 
"I just think you learn a lot about yourself," Brown said. "You become resilient because you're put into a lot of situations that you haven't been put into before. It's nice to learn how to navigate the world because you have to do a lot of figuring out in terms of transportation and getting around, so I think it's a really good skill to have."