Back(pack) to school with fun senior bags
August 25, 2022
A longstanding tradition at Prospect, seniors will opt to tote their belongings around in kids themed bags, rather than your typical black or gray Northface bag. Everyone makes their backpack selection differently, with the key takeaway being the more fun you have with it, the better.
For example, senior Ola Sulaimon chose his backpack due to his childhood connection with it. 
"Paw Patrol!" he said. "Favorite cartoon show as a kid, easy." 
While he stands by his classic childhood choice, he says that the Barbie backpacks have been his favorite to see. 
"The girly backpack is tough," Sulaimon said. "That's the toughest one there is."
Senior Ava Hilder was also motivated by childhood connection when choosing her backpack. She had a very specific vision: Dora the Explorer. She recalls having an extreme phase of loving the show, and wanted to commemorate that through her backpack choice. However, once Hilder reached the final destination on her mapa for her backpacking quest, she realized only five inches of space would not suit her needs. 
Instead, her mom suggested "that boy band she was obsessed with." In referral to "that boy band," Hilder's mom wasn't alluding to One Direction, like Hilder originally thought, rather Big Time Rush. 
Though it isn't what she originally envisioned, Hilder is happy with her final choice and is considering getting a water bottle to match. 
"So yeah, that's my back story," Hilder said.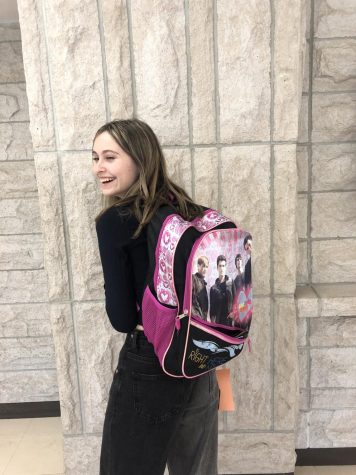 For senior Jake Parisi, the selection process was a little more simple. He says he was scrolling through Amazon when he saw the perfect pick: a Stitch backpack from the Disney movie Lilo and Stitch. With one click, the rest was history.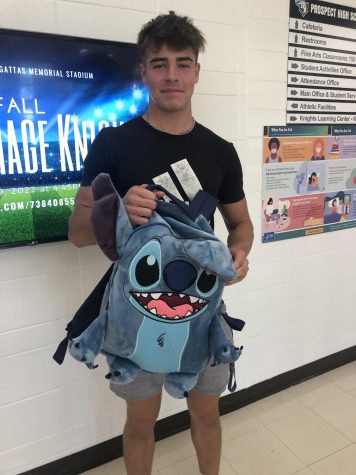 Determined to follow the backpack tradition, senior Charlotte Dienhart scouted high and low — at five different places, to be exact — in order to find the perfect fit. 
"It was the only cute one I could find," Dienhart said. "I went to five different places and they were all horrible. So next year, if you're a senior, go to T.J.Maxx. Yes, slay!"