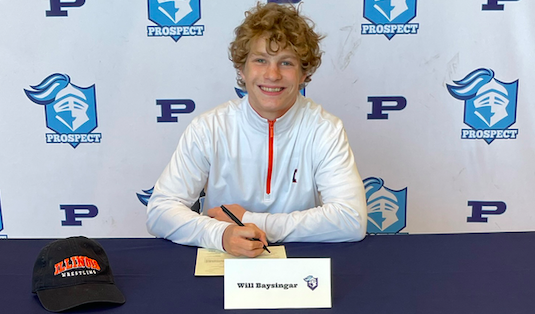 Will Baysinger – Wrestling
Q: Where did you commit and for what sport?
A: "I committed to University of Illinois at Urbana-Champaign for wrestling
Q: What led you to make this decision to play a sport in college?
A: "Wrestling has always been a passion for me throughout my entire life and after visiting the atmosphere of the college wrestling room, the work ethic and just how the coaches are. I really wanted to commit and play the sport for another five more years."
Q: Why did you choose this college?
A: "I visited a lot of colleges and really when I visited this one, they just had a better atmosphere. They offer better things to the athletes, and overall they have high academics"
Q: What are you looking forward to about playing a sport in college next year?
A: "I'm really looking forward to the camaraderie like you spend a lot of time with your team. I'll most likely be down there in the summer before I'm down there just to train and I just like to get along with the team or have a lot of fun."
Q: Who do you have to thank for helping you on this journey for your athletic career?
A: "I thank all my coaches, especially my prospect coaches, they have a good connection to go by. I also want to thank my parents because they made me go on a bunch of trips to visit a bunch of different colleges to see which I liked the best. And I'll thank my partner's last to make me be able to get this good so I could wrestle at the division one level."