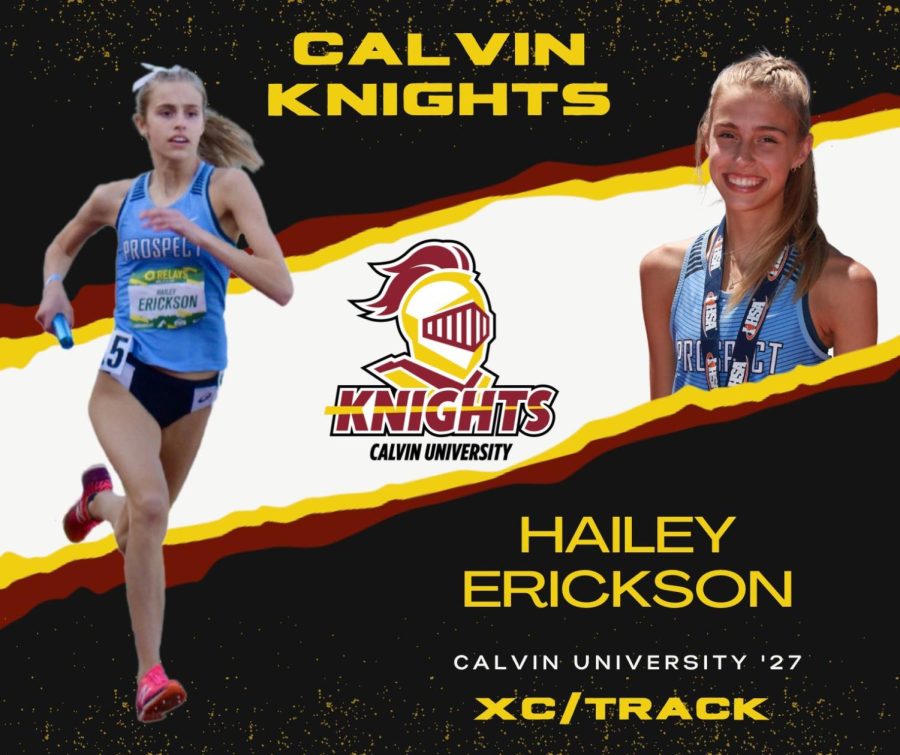 Hailey Erickson – Cross Country
Q: Where did you commit and for what sport?
A: "I am running cross country and track at Calvin University."
Q: What led you to make this decision to play a sport in college?
A: "I decided to run because it is such a cool community, and I've been able to run since sixth grade. I started running because of my sister, which is really cool. I found such an amazing community in the sport, and it's so cool being able to finish the line and see how much hard work I've achieved doing it. It's so much fun running with my friends, and seeing how much faster and how much more I've improved since sixth grade. So, I'm just really excited to continue my accomplishments and try to achieve some more goals when I get to college. It's just going to be such a good community and I'm excited to see how that goes."
Q: Why did you choose this college?
A: "I decided to choose Calvin University because it's such a pretty campus and has such a good community. I found that I really enjoy all the academics and the programs are really, really well done. I met with the team and the girls are such amazing people and the coach is such a good coach. And I'm excited to go out and run in college and be able to prove and do more at Calvin University."
Q: What are you looking forward to about playing a sport in college next year?
A: "I'm looking forward to going out there and reaching all my goals and improving and making so many more friends. I'm gonna miss the friends I have right now in high school because they're literally my family and it's gonna be hard to move on from them, but I am going to learn to adjust and just go out in college and achieve as much as I can."
Q: Who do you have to thank for helping you on this journey for your athletic career?
A: "I would have to think literally everyone in my life because my family and my friends have done so much for me. I run with Cam and Lily and they have supported me so much. I run with them every day and it's so cool being able to run with such amazing teammates. I run with the top seven all the time and just the entire cross country team at Prospect is such an amazing community and just being able to go out there and achieve so much with them because the team is such an important aspect of the sport. I also have to thank my family. My family is so supportive of cross country. My sister also runs cross country so that's really cool. But my brother and my parents always come to my meets and it's cool watching my sister since she runs in college, so it's cool to see her as a role model in my decision making. I also have to thank my coaches: Wintermute, Johnson and Trell for supporting me and helping me through the journey of high school and they've helped me develop into an amazing runner, and help develop our team."